Cruise Itinerary
| Date | Port | Arrive | Depart |
| --- | --- | --- | --- |
| 6 Jun 2023 | Broome, W A | | |
| 7 Jun 2023 | Talbot Bay, Western Australia | | |
| 8 Jun 2023 | Montgomery Reef, W A | | |
| 9 Jun 2023 | Sale River, Western Australia | | |
| 10 Jun 2023 | Kuri Bay, Western Australia | | |
| 11 Jun 2023 | Prince Regent River, Western Australia | | |
| 12 Jun 2023 | Careening Bay, WA | | |
| 13 Jun 2023 | Hunter River, West Australia | | Scenic flight to Broome |
7 Night Kimberley Experience Cruise sailing from Broome to Hunter River aboard Kimberley Quest II. This itinerary finishes with a scenic flight to Broome.

The Kimberley Quest II is a 25 metre fully air conditioned expedition vessels equipped with helipads. The vessel has been custom built for the remote Kimberley region, enabling it to explore estuaries and river systems inaccessible to larger boats. The vessel has the luxury of all private en-suite cabins, several deck areas for relaxation, sightseeing and alfresco dining. The talented chefs offer a diverse range of cuisine, incorporating some of the best local produce.

Detailed Itinerary:

DAY 1: Broome – Cape Leveque
Your Southern Quest begins when you embark the Kimberley Quest II, where you will be welcomed aboard by your captain and crew. Enjoy a relaxing drink as you watch the sun dip below the horizon, while cruising past the famous Cable Beach.

DAY 2: Buccaneer Archipelago, Dugong Bay, Talbot Bay
This morning will find us crossing the vast King Sound, cruising through the thousand islands of the Buccaneer Archipelago; this is your first taste of the Kimberley. Cool off with a refreshing swim in Dugong Bay, followed by a scenic tender excursion. Around the corner lies Talbot Bay, home to one of the icons of the Kimberley coast, the spectacular Horizontal Waterfalls. Take a tender and head in for an up-close and exhilarating ride through this natural phenomenon. In the afternoon take a scenic excursion up the back of Cyclone Creek to marvel at the amazing rock formations.

DAY 3: Collier Bay, Montgomery Reef, Red Cone Creek
Early morning we take you fishing in Collier Bay, your first chance to catch a barramundi. We then cruise to the amazing Montgomery Reef, which covers more than 300km², making it Australia's largest inshore reef. Watch as the tide falls right before your eyes, creating a spectacular waterfall effect. Take a tender ride to view many marine species, including turtles and sea birds. Enjoy an afternoon cruise to Red Cone Creek for a refreshing swim at Ruby Falls or try your luck at mud crabbing.

Day 4: Doubtful Bay, Sale River, Raft Point
This morning we fish the inlets of Doubtful Bay for the elusive barramundi and threadfin salmon. We then explore the Sale River and take an excursion upstream for a dip in the spring-fed rainforest pools, on the journey home view ancient rock art from the tenders. In the afternoon we cruise towards Steep Island, anchor below Raft Point and walk to the caves perched on the hill. Here is some of the finest well-preserved Wandjina art in the Kimberley. From the top we have an amazing view of the Kimberley Coast as the sun begins to set, capturing this unique landscape at its best.

DAY 5: Kuri Bay, Camden Harbour
Relax on board as we cruise past Augustus Island and the remote pearling settlement of Kuri Bay. At nearby Camden Harbour, we visit the forlorn settler's graves on Sheep Island and soak up the history of the first European settlement in the 1860s. In the afternoon take a tender for a spot of exploration. Have a go at fishing or collect rock oysters, before unwinding on the sundeck to take in the beautiful scenery.

DAY 6: Prince Regent River, King Cascade, Cathedral Falls
Early morning we cruise through St George Basin, a stunning inland sea. Leaving the vista of mighty Mt Trafalgar and Mt Waterloo, we cruise up the Prince Regent River, marvel at the pristine waterway that cuts through sandstone cliffs and gorges. Arriving at the King Cascade waterfalls, which is spring fed, marvel at the rush of water cascading in breathtaking tiers, surrounded by lush ferns and a myriad of wildlife. Climb above the falls for an unforgettable swim in a massive crystal clear pool. Be rewarded with a breathtaking view over the magnificent Prince Regent River in the distance – wilderness adventuring at its best! Late afternoon join our guides for an excursion to Cathedral Falls, while spotting crocodiles and flying foxes. Alternatively fish the Price Regent River which is renowned for big barra and threadfin salmon.

DAY 7: Prince Regent River, Camp Creek, Careening Bay
Wake early morning for your last chance to catch a barra in the rich waters of the Prince Regent River. Visit Camp Creek, a beautiful waterway, lined with weeping paperbarks where you can enjoy a walk to the top of the falls for another memorable swim. In the afternoon we cruise out of the Prince Regent River and visit Careening Bay, site of an ancient boab tree first visited in 1820 by Phillip Parker King. Relax onboard as another spectacular sunset sinks below the Kimberley horizon, as we cross Prince Frederick Harbour, towards the Hunter River.

DAY 8: Hunter River
In the morning we explore the spectacular Hunter River, one of the most scenic rivers for a relaxing ride in the tenders as we spot ancient rock art, crocodiles, flying foxes, taking in the flora and fauna of the Kimberley for the last time. Depart the Kimberley Quest II by helicopter where you will enjoy a scenic flight over the Mitchell Falls. At the Mitchell Plateau airstrip you will board a light aircraft and discover the immensity of the Kimberley. Return to Broome by sunset.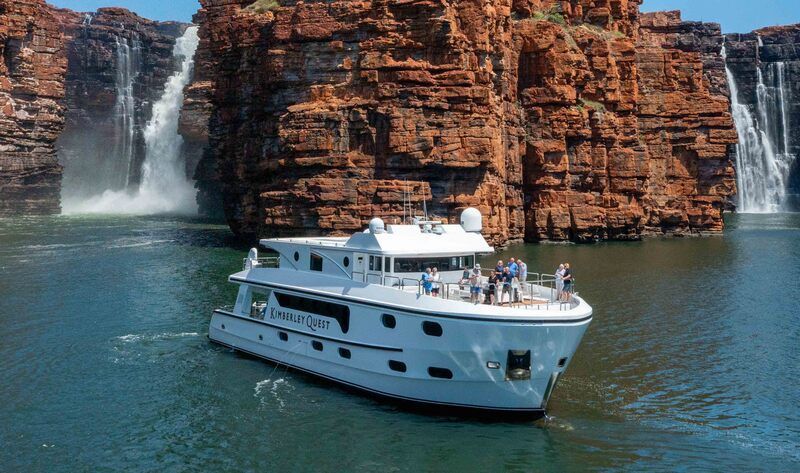 The Kimberley Quest II has been designed for relaxing and exploring the Kimberley coastline in complete comfort and style.

Our custom-built vessel is fully air-conditioned, equipped with a helipad, spa, large en-suited cabins and offers indoor and outdoor alfresco areas so there will always be plenty of room to take in the panoramic scenery and breathtaking sunsets. Whilst on board take advantage of the extensive library, including a fantastic array of Kimberley reference books and general interest novels, otherwise sit with the Captain in the wheelhouse and learn more about the Kimberley outback.

Accommodating just 18 passengers and 7 crew, your holiday of a lifetime can be enjoyed with fellow travellers in luxurious and intimate surrounds. You have the choice of 9 cabins from deluxe double, superior and the exclusive flybridge. All cabins feature private ensuites, individual air-conditioning, viewing windows, mini-refrigerators and are serviced daily by your hostess.

Carrying three excursion tenders, days are filled with a myriad of activities both on and off land, exploring the spectacular region with your very own local guide who has extensive knowledge of the Kimberley coastline. During your cruise you are free to do as much or as little as you wish and can be sure that your Kimberley cruise with us will exceed your expectations!
Ship Profile & Stats
Maiden voyage: 2005
Length: 24m
Beam: 8m
Draft: 2m
Speed: 10 knots
Ship registration: Australia
Passenger capacity (dbl): 18
Crew nationality: Australian
Officer nationality: Australian
Dining nationality: Australian
Ship Amenities
Air Conditioning
Ensuites
Mini Fridge
Hair Dryer
Ship Facilities
Air Conditioning
State of the art communications and Navigation systems
Fresh desalinated water
Tenders
Sun Deck
Helipad
Spa
Library
Laundry
Main Lounge and Dining Area
From its foundations in 1994 as a pilot boat for Broome Port, Kimberley Quest has grown into a multi-award winning, luxury Kimberley cruise company operating extended wilderness expeditions along the magnificent Kimberley coast.
Kimberley Quest is a dynamic and thriving business that has remained dedicated to providing all guests with an unforgettable experience. Whilst having operated now for over 20 years, the company still succeeds in exciting all those that step aboard and extends its passion for the Kimberley to all its guests.
With a strong sense of guest-focus and quality service, at the core of the business, Kimberley Quest looks forward to their adventure ahead.
The Kimberley Quest II is a 25 metre vessel that has been designed for relaxing and exploring the Kimberley coastline, its custom design allows us to visit areas many other Kimberley cruises simply cannot reach. Whilst on board guests can enjoy indoor and outdoor alfresco areas, a refreshing dip in the spa and gourmet cuisine prepared by our on-board chef. Cruising with a maximum of 18 guests our personalised service and attention to every detail means you will enjoy the amazing surrounds in complete comfort and luxury.
There are a range of Kimberley tours available, your daily cruise adventures feature a myriad of activities. Leaving the mother-ship in our custom-built tender vessels you will set out exploring the untouched river systems, viewing ancient Aboriginal rock art and fishing the tidal creeks as well as discovering the in-depth history of the area, viewing the rugged cliffs, caves, waterfalls and gorges, spotting wildlife, taking refreshing dips in secluded waterholes and much more!
The Kimberley is prolific with islands, whirlpools, inlets, extensive waterfalls, pristine beaches and unforgettable scenery that will take your breath away. The team at Kimberley Quest will convey their passion for this ancient land, forging the sights and sounds of the Kimberley into your memory forever.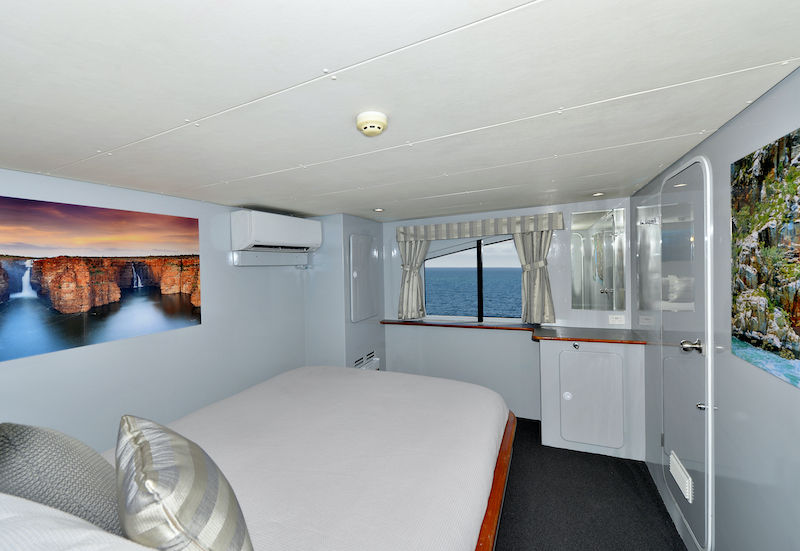 Our exclusive flybridge cabin is the only guest cabin on the top deck and features a queen size bed, well appointed private ensuite with hair dryer, individual air-conditioning and a personal mini-fridge. With a large window in the bedroom and a port hole in the ensuite you will never miss a moment of the magnificent Kimberley scenery.

Storage consists of a closet with hanging facilities, cupboard and space underneath your bed.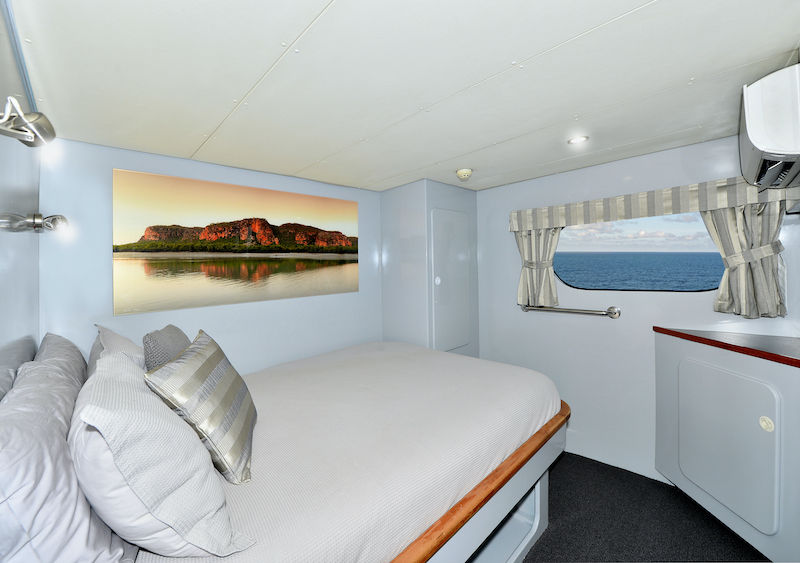 Our superior cabins are located on the main deck and feature a queen size bed, well-appointed private ensuite with hair dryer, individual air-conditioning, personal mini-fridges and large viewing windows.

A closet with hanging facilities, cupboard and storage underneath your bed is also in your cabin.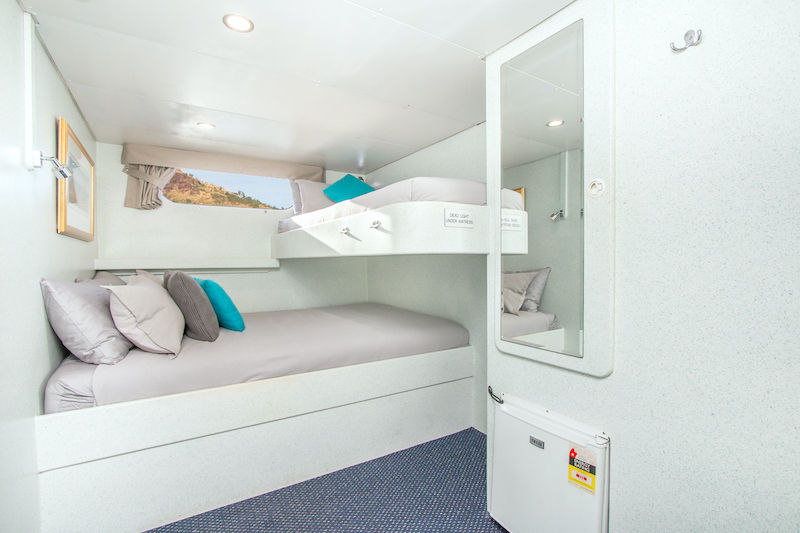 The double cabins are located on the lower deck and feature a double size bed with an additional single bed above, well-appointed private ensuite with hair dryer, individual air-conditioning, personal mini- fridges and viewing windows.

For guests who would like stay in our double cabins and would prefer separate bedding, you can opt to use the additional single bed in the cabin or we have one cabin which can be arranged into twin single bed configuration subject to availability.

Storage consists of a closet with hanging facilities, cupboard and space underneath your bed.

Please note: The layout of our double cabins can vary from the picture shown.