Cruise Itinerary
| Date | Port | Arrive | Depart |
| --- | --- | --- | --- |
| 26 Dec 2021 | Sydney, NSW, Australia | | 10:00 AM |
| 27 Dec 2021 | At Sea | | |
| 28 Dec 2021 | Twofold Bay, NSW, Australia | | |
| 29 Dec 2021 | Adventure Bay, Tasmania | | |
| 30 Dec 2021 | Maria Island, Tasmania, Australia | | |
| 31 Dec 2021 | Hobart, Tasmania, Australia | | |
| 1 Jan 2022 | Hobart, Tasmania, Australia | | |
6 Night Cruise sailing from Sydney to Hobart aboard Coral Discoverer.

Experience the nautical tradition that is the Rolex Sydney to Hobart yacht race! Embarking in Broken Bay on December 26th, soak in the excitement at the start of the race from Coral Discoverer. Watch the fleet sail past as you hear expert commentary from our on-board lecturer Skip Lissiman. We sail the south coast and Bass Strait with the trailing fleet. Once across the Strait enjoy the scenic rugged Tasmanian coast with the opportunity to join our expedition team on a number of guided shore excursions to Tasmania's Parks. Scheduled to arrive in Hobart on New Year's Eve, it's time to enjoy the buzz of the race and New Year's Eve celebrations before disembarking on the 1st January at Macquarie Wharf 2.

Join us this December to join in on the 75th-anniversary celebrations of this exciting race.

Expedition Highlights

›› Enjoy a grandstand view of the start of the Sydney to Hobart race as the leaders come tearing through Sydney Heads
›› Trail the yachts on a coastal cruise while you enjoy a drink at Coral Discoverer's sundeck Explorer Bar
›› Visit Adventure Bay on Bruny Island and stretch your legs on the Fluted Cape walk
›› Ring in the New Year onboard and enjoy Captain's farewell drinks
›› Your cruise is accompanied by Special Guest Lecturer who will provide insights

THE ITINERARY:

Embark: 8:30 am – 26th December.
Arrive: Hobart, 31st December. Disembark: Macquarie Wharf 2 – 9:00 am 1st January.

Complimentary coach transfers are offered from Wynyard Station to arrive at Coral Discoverer's embarkation point in Palm Beach, Broken Bay. You will be met by the ship's tender and transferred to the Coral Discoverer for a 10:00am departure.

This itinerary is designed to capture the best moments of the first few days of the Sydney to Hobart race and highlights of the Tasmanian coastline. The Captain will vary the itinerary to make the most of the views and weather windows of the mercurial southern coast. Throughout the expedition, we may make changes to the itinerary as necessary to maximise your expeditionary experience. Allowances may be made for seasonal variations, weather, tidal conditions and any other event that may affect the operation of the vessel. Coral Expeditions suggests that you do not arrive on the day of embarkation or depart on the day of disembarkation due to any changes that may occur in scheduling.

EXPEDITION HIGHLIGHTS:

SYDNEY: NORTH HEAD
Embark at 8:30am for 10am departure, and enjoy lunch while the ship positions off North head. From the Explorer Bar, celebrate the start of the Sydney to Hobart Yacht Race and watch the fleet round the heads and sail south.

SCENIC CRUISE:
Cruise the scenic coastline from Sydney. Dependent on weather, stops may include Jervis Bay and/or Twofold Bay. As you cruise, our guest lecturer will present commentary on the Sydney to Hobart Yacht Race and lectures on yachting and maritime history.

BASS STRAIT CROSSING
As we sail through the Southern Ocean, enjoy presentations, spot yachts, or relax on deck and enjoy the vastness of the Bass Strait.

BRUNY ISLAND AND ADVENTURE BAY
Experience the rugged beauty of the Fluted Cape as you walk along the sheer coastal cliffs or cruise for a closer look around Penguin Island. Learn about the rich maritime history of Adventure Bay as you meander past the ruins of old whaling stations on the way to Grassy Point.

MARIA ISLAND
The historic ruins, secluded bays, and rugged cliffs of Maria Island National Park are home to a local population of wildlife that includes Forester Kangaroos, Bennetts Wallabies, Tasmanian Devils, and wombats. Since the 1960s, several endangered species have been introduced here in a bid to protect them. Visit World Heritage-listed Darlington, part of the "Convict Trail of Australia", and gain an understanding of the life of the early settlers in a restored 17th century convict penitentiary. An adventurous walk to the dramatic Painted and Fossil Cliffs take in the history and beauty of this island.

HOBART
Arrive in Hobart in time for the Sydney to Hobart race celebrations on New Year's Eve. Stroll Hobart's historic wharf. Enjoy farewell drinks with the Captain, and welcome the New Year with a view of the fireworks display over the Derwent River.

Disembark at Macquarie Wharf 2 at 9 am, 1st January.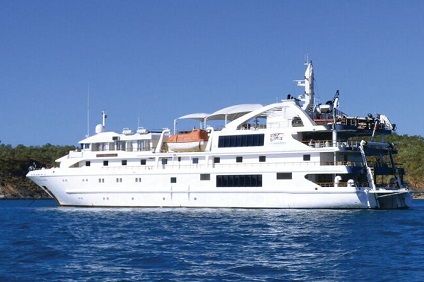 Launched in 2005, Coral Discoverer set a new benchmark standard for small ship cruising in Australia. Refurbished in November 2016, she continues to raise the bar to new levels of sophistication in expedition cruising in the Southern Hemisphere.

The 1800-tonne Coral Discoverer is the grand vision of Coral Expeditions, pioneers in expedition and adventure cruises around Australia, Papua New Guinea and South East Asia. Her shallow draught and manoeuvrability allow her to go where larger vessels cannot. Her tender vessel, Xplorer, can seat all 72 passengers for excursions to beaches and rivers. Coral Discoverer is equipped with latest technology active stabilisers to ensure comfortable cruising in open waters and is fitted with modern safety and navigation equipment and wireless internet facilities.

Coral Discoverer was built to the exacting international SOLAS (Safety of Life at Sea) standards and specifications in Cairns, Australia, with one aim in mind; to create the ultimate small ship cruising experience. Australian flagged, and staffed entirely by an Australian and New Zealand crew, your experience aboard Coral Discoverer will be unique.
Ship Profile & Stats
Maiden voyage: 2005
Refurbished: 2016
Tonnage: 1,838 tonnes
Length: 63m
Beam: 13m
Draft: 3m
Speed: 12 Knots
Ship registration: Australia
Passenger capacity (dbl): 72
Crew nationality: Australian
Dining nationality: Australian
Ship Amenities
All Oceanview Cabins
Sitting Area
Individually Controlled Air Conditioning
Private Ensuite
i-Pod Dock
Ship Facilities
Laundry Facilities (Limited)
Gift Shop
Workout Area
Wireless internet available for laptops, PDAs and onboard computer
Xplorer, Zodiacs and Glass Bottom Boat
Phone and fax facilities
Lecture Lounge
Reference Library
Main Dining Room
Sun Deck
3 Cocktail Bars
Coral Expeditions is a 33 year old Australian expedition cruise company. We operate and manage a fleet of 3 small ships taking guests to some of the most beautiful, yet undiscovered, regions of Asia-Pacific. Over 5,000 travellers from all over the world come to us every year for our relaxed small ship atmosphere and itineraries which larger ships cannot replicate. Our operations are bespoke and sometimes not commercially justifiable, but result in a more personal product. We have limited the size of our ships to maximise the expedition experience. Our cuisine is prepared small batch on board, and while the style is down to earth, it reflects high quality Australian produce and wine. We operate to Australian standards of safety with Australian senior crew wherever we go. We were the first to offer interpretive programmes on our cruises and to employ Expedition Leaders, Guest Lecturers, Marine Biologists, and SCUBA Instructors – a tradition that continues today.
Relaxed environment – True to our Australian heritage, our ship environment is designed to be casual. There is no dress code or assigned seating at meal times. Our ship layout encourages mingling. Complimentary coffee and tea stations are open throughout the day in the lounge and dining areas. There are no in-room televisions or room service, but there is plenty of common space. Also, we operate an open bridge policy and encourage guests to visit the bridge and observe ship operations. Our Captains enjoy the open interaction they share with our guests.
Professional service – we offer high standards of comfort and care, but without any formality or stuffiness. Our crew are trained to be attentive but are always open to a friendly chat. We maintain the highest standards of marine and passenger safety; we follow Australian standards in our staffing and operations.
Unique coastal expedition itineraries – our guests come to us because of our unique destinations and shore-rich programmes. Our shallow-draught ships can go where larger ships cannot. We shy away from long ocean voyages. Every day typically has at least one stop for water or land-based activities. On each voyage we will have a Trip Director or Expedition Leader, and on longer voyages, we have Guest Lecturers who are typically experts in the geology, history or flora and fauna of the region. Our Trip Directors and Expedition Leaders come with marine or local expertise.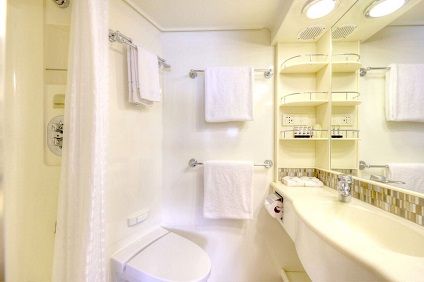 Located on the exclusive Bridge Deck close to the Lounge and Bridge, our six spacious Bridge Deck staterooms are 20sqm (195 square feet) in size and feature picture windows for expansive ocean views, along with a sofa, desk, telephone and your choice of Junior King or twin bedding.

Available now, and brand new, Bridge Deck Staterooms offer guests private balconies opening out from french windows providing comfortable indoor outdoor living.

Encircled by a full-ship promenade, our 19 spacious Promenade Deck (Category A) staterooms are 18sqm (195 square feet) in size and feature picture windows for expansive ocean views, along with a sofa, desk, telephone and your choice of Junior King or twin bedding.
Located in the bow of the ship and encircled by a full-ship promenade, our two Promenade Deck (Category B) staterooms are 15sqm (160 square feet) in size and feature picture windows for expansive ocean views, along with a desk, telephone and Junior King bedding.
Located close to the Dining Room, our six spacious Main Deck (Category A) staterooms are 18sqm (195 square feet) in size and feature large, twin porthole windows for expansive ocean views, along with a desk, sofa, telephone and your choice of Junior King or twin bedding.
Located close to the Dining Room, our six spacious Main Deck (Category B) staterooms are 18sqm (195 square feet) in size and feature twin portholes for expansive ocean views, along with a desk, sofa, telephone and your choice of Junior King or twin bedding.