From its foundations in 1994 as a pilot boat for Broome Port, Kimberley Quest has grown into a multi-award winning, luxury Kimberley cruise company operating extended wilderness expeditions along the magnificent Kimberley coast.
Kimberley Quest is a dynamic and thriving business that has remained dedicated to providing all guests with an unforgettable experience. Whilst having operated now for over 20 years, the company still succeeds in exciting all those that step aboard and extends its passion for the Kimberley to all its guests.
With a strong sense of guest-focus and quality service, at the core of the business, Kimberley Quest looks forward to their adventure ahead.
The Kimberley Quest II is a 25 metre vessel that has been designed for relaxing and exploring the Kimberley coastline, its custom design allows us to visit areas many other Kimberley cruises simply cannot reach. Whilst on board guests can enjoy indoor and outdoor alfresco areas, a refreshing dip in the spa and gourmet cuisine prepared by our on-board chef. Cruising with a maximum of 18 guests our personalised service and attention to every detail means you will enjoy the amazing surrounds in complete comfort and luxury.
There are a range of Kimberley tours available, your daily cruise adventures feature a myriad of activities. Leaving the mother-ship in our custom-built tender vessels you will set out exploring the untouched river systems, viewing ancient Aboriginal rock art and fishing the tidal creeks as well as discovering the in-depth history of the area, viewing the rugged cliffs, caves, waterfalls and gorges, spotting wildlife, taking refreshing dips in secluded waterholes and much more!
The Kimberley is prolific with islands, whirlpools, inlets, extensive waterfalls, pristine beaches and unforgettable scenery that will take your breath away. The team at Kimberley Quest will convey their passion for this ancient land, forging the sights and sounds of the Kimberley into your memory forever.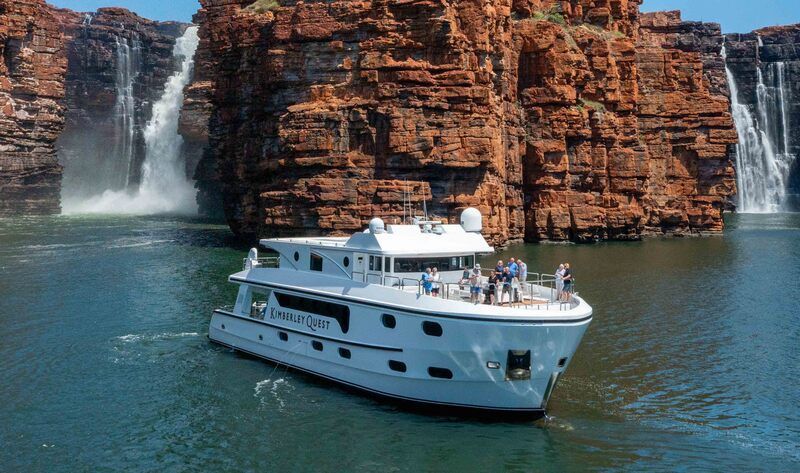 Kimberley Quest II
The Kimberley Quest II has been designed for relaxing and exploring the Kimberley coastline in complete comfort and style. Our custom-built vessel is fu…
View More
Filter results:
Currently we have no results for this cruise line, please click here to start a search and find something for you!