The majestic PS Emmylou is one of the most recognisable and iconic Paddlesteamers in Australia, cruising the Murray River from Echuca, just 2.5 hours drive from Melbourne.
Named after the American country singer Emmylou Harris, PS Emmylou has been host to thousands of people, delighting even her namesake. PS Emmylou starred in the TV series All the Rivers Run in which she was renamed the PS Providence. Powered by a beautifully restored 1906 Marshall and Sons steam engine, Emmylou is now the only wood fired Paddlesteamer in the world offering regular scheduled accommodated river cruises.
The side wheel paddlesteamers are distinctly Australian having first plied the Murray river in 1853, they established a thriving industry which survived until rail and roads began to service the region near the turn of the century. By 1873 there were 240 boats trading along the Murray River. The inland prospered as trade and commence developed, and previously out of the way settlements were kept in touch with the cities. With the introduction of the railway, the paddlesteamers and their industrious crews progressively lost work until the riverboat industry was but a shadow of it's illustrious past. The Murray River which includes the Darling and Murrumbidgee rivers is one of the longest river systems in the world. Although weirs have cut down the navigability of the river, the Murray alone still claims 2508 kilometres of meandering waters.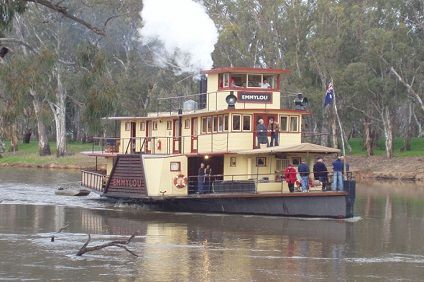 Emmylou
PS Emmylou, the world's only wood-fired cruising paddlesteamer reminds us of the romantic days of the paddlesteamers and is now an Australian Icon of the R…
View More
Filter results:
Currently we have no results for this cruise line, please click here to start a search and find something for you!