Australia's River Murray is one of the world's legendary rivers, in fact, the fourth longest river system in the world. Mysterious, massive and meandering 3,700 kilometres, it ranks with the Mississippi, the Nile and the Amazon.
The MV Proud Mary has operated for over 30 years offering lunch cruises as well as 2,3 and 5 night cruise packages based at Murray Bridge, only 45 minutes from Adelaide.
The 18 deluxe cabins, gourmet meals and the vessel's intimate size provide a luxury, boutique cruise option with a strong emphasis on the daily nature-based shore excursions.
The cruises feature ecological walks, aquaculture discoveries from small boat tours into lagoons and inlets, historic township exploration and a visit to the oldest archaeological digs in Australia, the Aboriginal Ngaut Ngaut conservation site.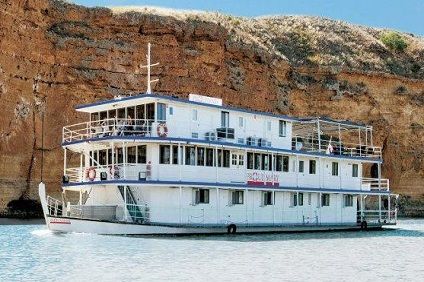 Proud Mary
The Proud Mary has recently undergone refurbishment to ensure your stay with us is as comfortable as possible. All the cabins have river views and are e…
View More
Filter results:
Currently we have no results for this cruise line, please click here to start a search and find something for you!