Cruise Itinerary
| Date | Port | Arrive | Depart |
| --- | --- | --- | --- |
| 26 Oct 2022 | Cairns, Qld, Australia | 6:00 AM | 8:00 PM |
| 27 Oct 2022 | At Sea | | |
| 28 Oct 2022 | Thursday Island, Queensland, Australia | 7:00 AM | 5:00 PM |
| 29 Oct 2022 | At Sea | | |
| 30 Oct 2022 | At Sea | | |
| 31 Oct 2022 | Darwin, NT, Australia | 7:00 AM | 5:00 PM |
| 1 Nov 2022 | At Sea Cruising | | |
| 2 Nov 2022 | At Sea Cruising | | |
| 3 Nov 2022 | Benoa, Bali, Indonesia | 7:00 AM | 5:00 PM |
Discover the charms of northern Australia as you sail to far-flung ports of call in Queensland and the Northern Territory during a voyage from Cairns to Indonesia. Immerse yourself in the history and traditions of the Indigenous Peoples of the Torres Strait on Thursday Island and learn about the settlements that arose after Europeans arrived. Then explore the tropical natural beauty and meet the local wildlife during a stop in vibrant Darwin.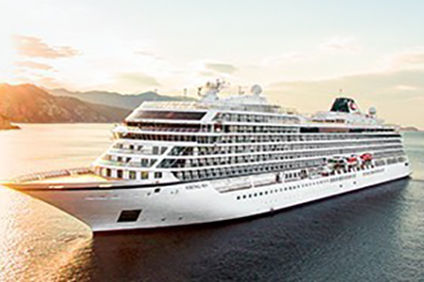 Expand your horizons on this comfortable, award-winning ship, intimate and thoughtfully created by experienced nautical architects and designers to enrich your interaction with your destination in every way.

Whether you seek to expand your palate, your knowledge, or just your circle of friends with like-minded people, we've designed our ships with a unique onboard experience in mind, from the serene Wintergarden, perfect for a calming cup of tea; to The Spa, a Nordic sanctuary of wellness; to the Library, carefully curated with books to add to your knowledge. Not to mention inspiring onboard talks that help you understand every destination in depth. All set in tasteful, understated elegance. And all designed to deliver a life-enriching experience that stays with you forever.
Ship Profile & Stats
Maiden voyage: 2018
Length: 745 ft
Beam: 94.5 ft
Passenger capacity (dbl): 930
Crew nationality: European
Officer nationality: European
Dining nationality: European
Ship Amenities
Large flat-screen LCD TV
Direct dial satellite phone & cell service
Safe
Hair Dryer
110/220 volt outlets
Wi-Fi
Interactive TV & movies-on-demand
Ship Facilities
Explorers Lounge
Aquavit Terrace
The Kitchen Table
The Chefs Table
Manfredis Italian Restaurant
Viking Living Room
Viking Bar
Shop
Salon
Fitness Centre
Spa
Restaurant
Torshavn
Cinemas
Theatre
Infinity Pool
Hot Tub
Main Pool
World Cafe
Pool Grill
Pool Bar
Wintergarden
Sports Deck
Medical Centre
Join us as we usher in a new era of ocean cruising by taking the innovative thinking behind our award-winning river cruises and bringing it to the epic setting of the sea. Immerse yourself in your destination with regional cuisine, cultural lectures, a Nordic-inspired spa and magnificent views from spacious public areas.
Owning and operating the world's largest fleet of river cruise ships—and now three new ocean vessels—has advantages for our guests. When you cruise with Viking, you benefit from a level of expertise second to none.
We have a history of providing our guests with a way to get below the surface, not just "checking off" each port. That's why our ocean cruises are centered around where you go, not just how you get there, with hand-picked itineraries so you can immerse yourself in history, music, art, cuisine - everything about your destination. In addition, we include excursions led by knowledgeable local guides in every port of call. You learn about the lands through which you travel via enriching lectures that bring history to life; through cultural adventures; in-depth pre-trip materials; and on-demand programming, all designed to help you experience the most from your travels.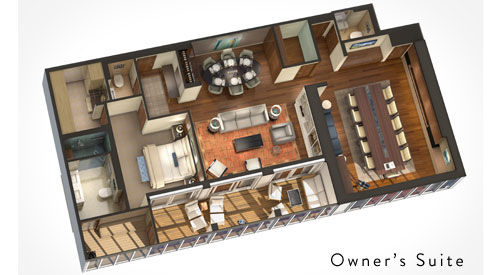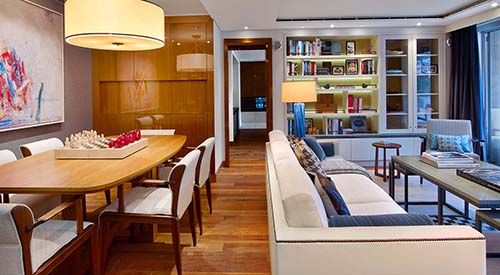 Suite size: 1,448 sq. ft.
11:00 a.m. embarkation
11:00 a.m. priority stateroom access
Priority shore excursion reservations
3 guaranteed priority reservations at each specialty restaurant (90 days prior to departure)
Priority main dining room reservations (90 days prior to departure)
King-size Viking Explorer bed with luxury linens
Large flat-screen LCD TV
Mini-bar with alcoholic beverages, soft drinks, water & snacks, replenished once daily
In-suite binoculars, coffee maker & cashmere blanket
Luxury robes, slippers & toiletries
Direct dial satellite phone & cell service
Security safe, hair dryer, 110/220 volt outlets
Wi-Fi
Interactive TV & movies-on-demand
24-hour room service
Laundry, dry cleaning, shoe shine & pressing
Bottle of champagne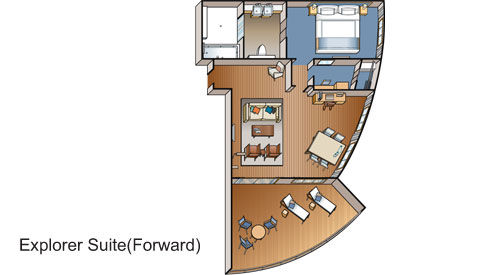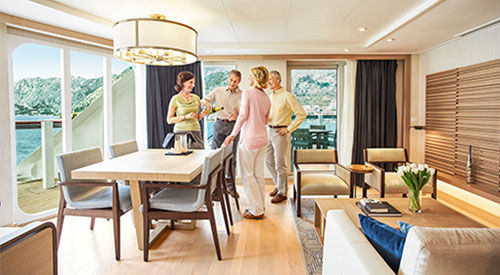 Size including veranda: 757+ sq. ft.
11:00 a.m. embarkation
11:00 a.m. priority stateroom access
Priority shore excursion reservations: 97 days prior
3 guaranteed priority reservations at each specialty restaurant (90 days prior to departure)


King-size Viking Explorer bed with luxury linens
Large flat-screen LCD TV
Mini-bar with alcoholic beverages, soft drinks, water & snacks, replenished once daily
In-suite binoculars, coffee maker & cashmere blanket
Luxury robes, slippers & toiletries
Direct dial satellite phone & cell service
Security safe, hair dryer, 110/220 volt outlets

Wi-Fi
Interactive TV & movies-on-demand
24-hour room service
Laundry, dry cleaning, shoe shine & pressing
Bottle of champagne
* Stateroom configuration varies depending upon location on each deck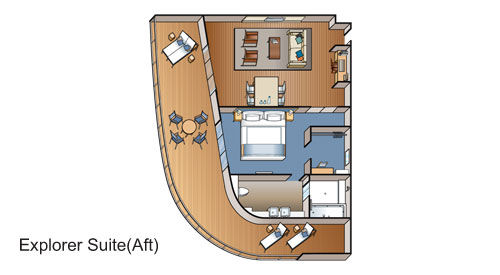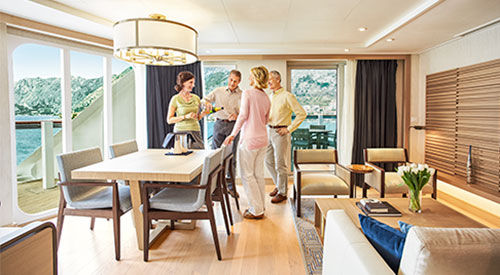 Size including veranda: 757+ sq. ft. 11:00 a.m. embarkation 11:00 a.m. priority stateroom access Priority shore excursion reservations: 97 days prior 3 guaranteed priority reservations at each specialty restaurant (90 days prior to departure) King-size Viking Explorer bed with luxury linens Large flat-screen LCD TV Mini-bar with alcoholic beverages, soft drinks, water & snacks, replenished once daily In-suite binoculars, coffee maker & cashmere blanket Luxury robes, slippers & toiletries Direct dial satellite phone & cell service Security safe, hair dryer, 110/220 volt outlets Wi-Fi Interactive TV & movies-on-demand 24-hour room service Laundry, dry cleaning, shoe shine & pressing Bottle of champagne * Stateroom configuration varies depending upon location on each deck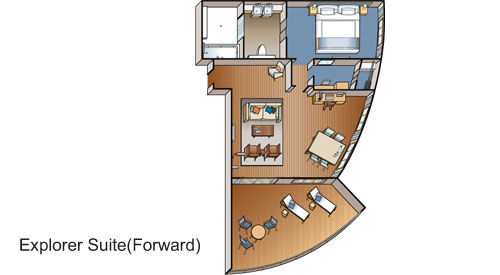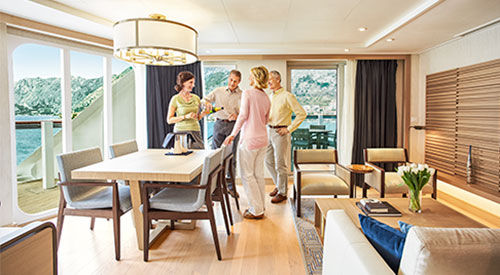 Size including veranda: 757+ sq. ft. 11:00 a.m. embarkation 11:00 a.m. priority stateroom access Priority shore excursion reservations: 97 days prior 3 guaranteed priority reservations at each specialty restaurant (90 days prior to departure) King-size Viking Explorer bed with luxury linens Large flat-screen LCD TV Mini-bar with alcoholic beverages, soft drinks, water & snacks, replenished once daily In-suite binoculars, coffee maker & cashmere blanket Luxury robes, slippers & toiletries Direct dial satellite phone & cell service Security safe, hair dryer, 110/220 volt outlets Wi-Fi Interactive TV & movies-on-demand 24-hour room service Laundry, dry cleaning, shoe shine & pressing Bottle of champagne * Stateroom configuration varies depending upon location on each deck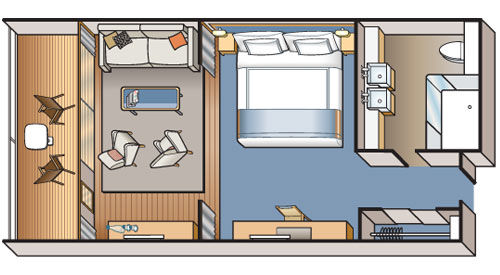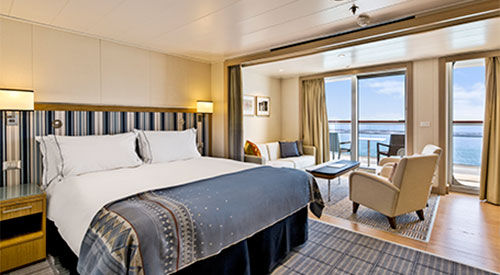 Size including veranda: 405 sq. ft.
11:00 a.m. embarkation
11:00 a.m. priority stateroom access
Priority shore excursion reservations: 87 days prior
3 guaranteed priority reservations at each specialty restaurant (80 days prior to departure)

King-size Viking Explorer bed with luxury linens
Large flat-screen LCD TV
Mini-bar with alcoholic beverages, soft drinks, water & snacks, replenished once daily
In-suite binoculars, coffee maker & cashmere blanket
Luxury robes, slippers & toiletries
Direct dial satellite phone & cell service
Security safe, hair dryer, 110/220 volt outlets

Wi-Fi
Interactive TV & movies-on-demand
24-hour room service
Laundry, dry cleaning, shoe shine & pressing
Bottle of champagne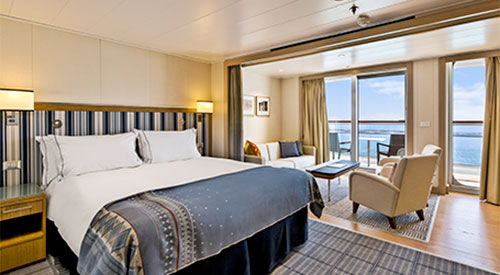 Size including veranda: 405 sq. ft. 11:00 a.m. embarkation 11:00 a.m. priority stateroom access Priority shore excursion reservations: 87 days prior 3 guaranteed priority reservations at each specialty restaurant (80 days prior to departure) King-size Viking Explorer bed with luxury linens Large flat-screen LCD TV Mini-bar with alcoholic beverages, soft drinks, water & snacks, replenished once daily In-suite binoculars, coffee maker & cashmere blanket Luxury robes, slippers & toiletries Direct dial satellite phone & cell service Security safe, hair dryer, 110/220 volt outlets Wi-Fi Interactive TV & movies-on-demand 24-hour room service Laundry, dry cleaning, shoe shine & pressing Bottle of champagne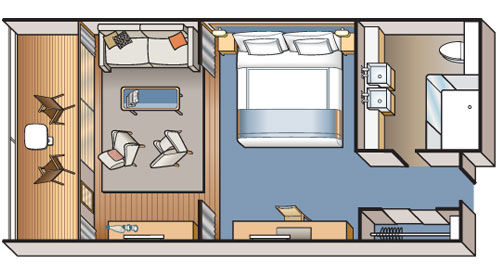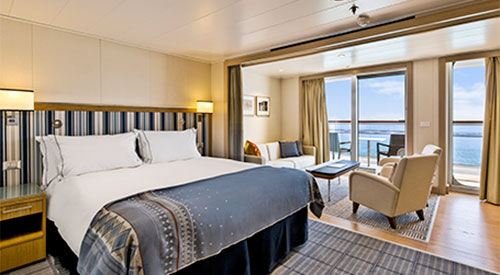 Size including veranda: 405 sq. ft. 11:00 a.m. embarkation 11:00 a.m. priority stateroom access Priority shore excursion reservations: 87 days prior 3 guaranteed priority reservations at each specialty restaurant (80 days prior to departure) King-size Viking Explorer bed with luxury linens Large flat-screen LCD TV Mini-bar with alcoholic beverages, soft drinks, water & snacks, replenished once daily In-suite binoculars, coffee maker & cashmere blanket Luxury robes, slippers & toiletries Direct dial satellite phone & cell service Security safe, hair dryer, 110/220 volt outlets Wi-Fi Interactive TV & movies-on-demand 24-hour room service Laundry, dry cleaning, shoe shine & pressing Bottle of champagne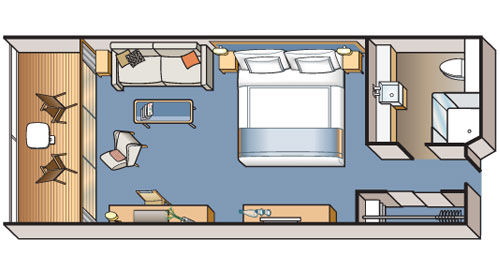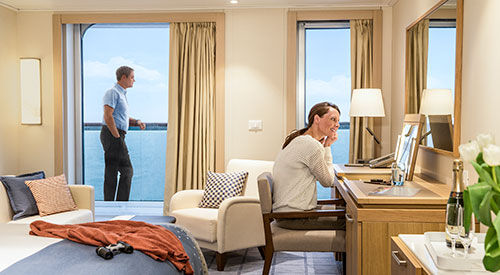 Size including veranda: 338 sq. ft.
11:00 a.m. embarkation
1:00 p.m. stateroom access
Priority shore excursion reservations: 77 days prior
2 guaranteed priority reservations at each speciality restaurant (70 days prior to departure)

King-size Viking Explorer bed with luxury linens
Large flat-screen LCD TV
Mini-bar with alcoholic beverages, soft drinks, water & snacks, replenished once daily
In-suite binoculars, coffee maker & cashmere blanket
Luxury robes, slippers & toiletries
Direct dial satellite phone & cell service
Security safe, hair dryer, 110/220 volt outlets

Wi-Fi
Interactive TV & movies-on-demand
24-hour room service
Shoe shine & pressing
Bottle of champagne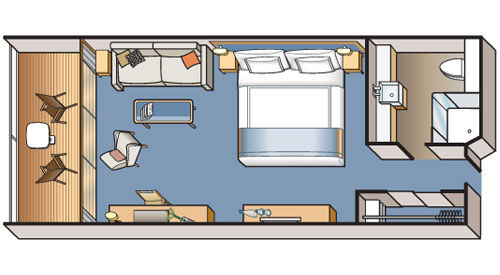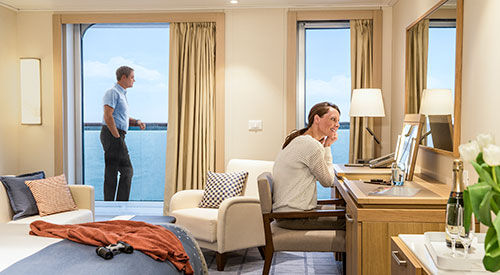 Size including veranda: 338 sq. ft.
11:00 a.m. embarkation
1:00 p.m. stateroom access
Priority shore excursion reservations: 77 days prior
2 guaranteed priority reservations at each speciality restaurant (70 days prior to departure)

King-size Viking Explorer bed with luxury linens
Large flat-screen LCD TV
Mini-bar with alcoholic beverages, soft drinks, water & snacks, replenished once daily
In-suite binoculars, coffee maker & cashmere blanket
Luxury robes, slippers & toiletries
Direct dial satellite phone & cell service
Security safe, hair dryer, 110/220 volt outlets

Wi-Fi
Interactive TV & movies-on-demand
24-hour room service
Shoe shine & pressing
Bottle of champagne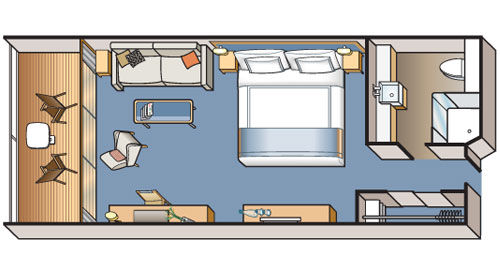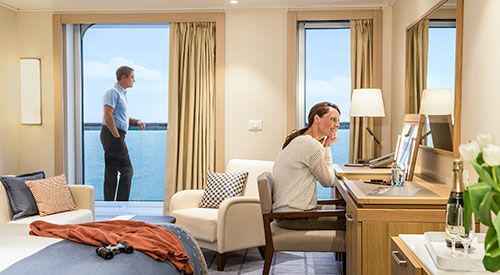 Size including veranda: 338 sq. ft.
11:00 a.m. embarkation
1:00 p.m. stateroom access
Priority shore excursion reservations: 77 days prior
2 guaranteed priority reservations at each speciality restaurant (70 days prior to departure)

King-size Viking Explorer bed with luxury linens
Large flat-screen LCD TV
Mini-bar with alcoholic beverages, soft drinks, water & snacks, replenished once daily
In-suite binoculars, coffee maker & cashmere blanket
Luxury robes, slippers & toiletries
Direct dial satellite phone & cell service
Security safe, hair dryer, 110/220 volt outlets

Wi-Fi
Interactive TV & movies-on-demand
24-hour room service
Shoe shine & pressing
Bottle of champagne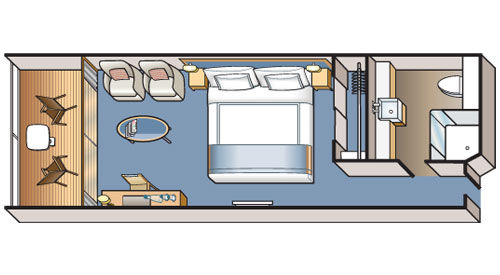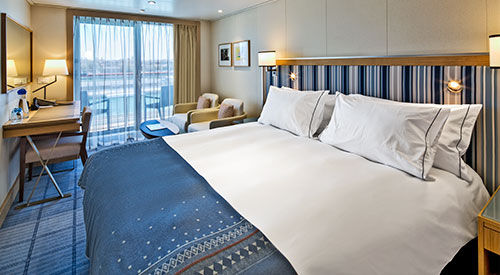 Size including veranda: 270 sq ft
11:00 a.m. embarkation
2:00 p.m. stateroom access
Priority shore excursion reservations: 67 days prior
1 guaranteed priority reservations at each specialty restaurant (60 days prior to departure)

King-size Viking Explorer bed with luxury linens
Large flat-screen LCD TV
Mini-bar with soft drinks, water & snacks, replenished once daily
In-suite binoculars, coffee maker & cashmere blanket
Luxury robes, slippers & toiletries
Direct dial satellite phone & cell service
Security safe, hair dryer, 110/220 volt outlets

Wi-Fi
Interactive TV & movies-on-demand
24-hour room service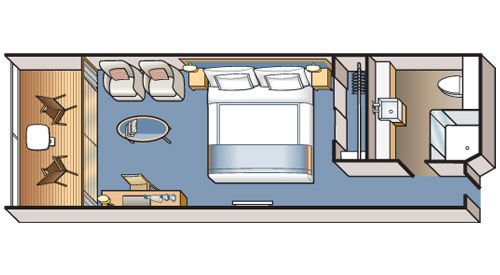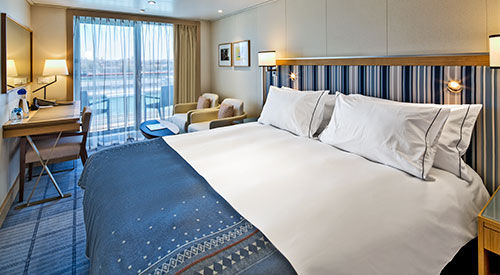 Size including veranda: 270 sq ft
11:00 a.m. embarkation
2:00 p.m. stateroom access
Priority shore excursion reservations: 67 days prior
1 guaranteed priority reservations at each specialty restaurant (60 days prior to departure)

King-size Viking Explorer bed with luxury linens
Large flat-screen LCD TV
Mini-bar with soft drinks, water & snacks, replenished once daily
In-suite binoculars, coffee maker & cashmere blanket
Luxury robes, slippers & toiletries
Direct dial satellite phone & cell service
Security safe, hair dryer, 110/220 volt outlets

Wi-Fi
Interactive TV & movies-on-demand
24-hour room service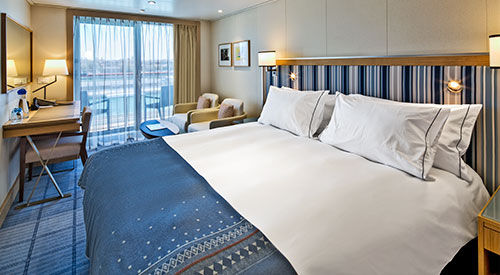 Size including veranda: 270 sq ft
11:00 a.m. embarkation
2:00 p.m. stateroom access
Priority shore excursion reservations: 67 days prior
1 guaranteed priority reservations at each specialty restaurant (60 days prior to departure)

King-size Viking Explorer bed with luxury linens
Large flat-screen LCD TV
Mini-bar with soft drinks, water & snacks, replenished once daily
In-suite binoculars, coffee maker & cashmere blanket
Luxury robes, slippers & toiletries
Direct dial satellite phone & cell service
Security safe, hair dryer, 110/220 volt outlets

Wi-Fi
Interactive TV & movies-on-demand
24-hour room service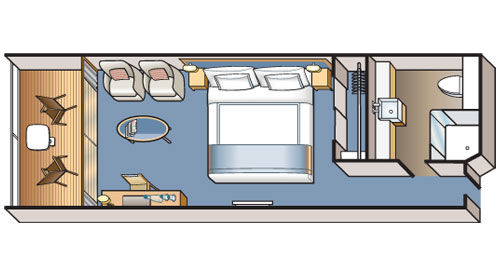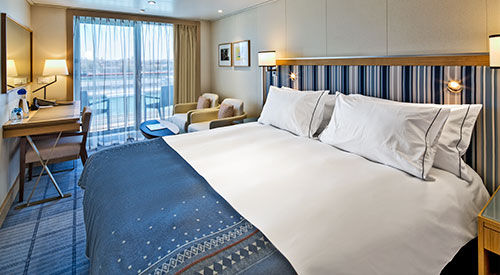 Size including veranda: 270 sq ft
11:00 a.m. embarkation
2:00 p.m. stateroom access
Priority shore excursion reservations: 67 days prior
1 guaranteed priority reservations at each specialty restaurant (60 days prior to departure)

King-size Viking Explorer bed with luxury linens
Large flat-screen LCD TV
Mini-bar with soft drinks, water & snacks, replenished once daily
In-suite binoculars, coffee maker & cashmere blanket
Luxury robes, slippers & toiletries
Direct dial satellite phone & cell service
Security safe, hair dryer, 110/220 volt outlets

Wi-Fi
Interactive TV & movies-on-demand
24-hour room service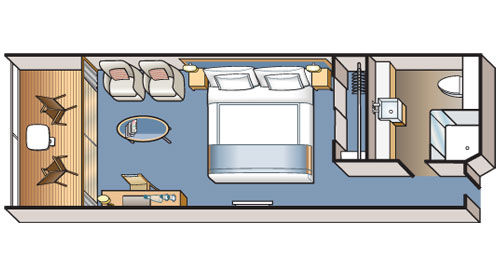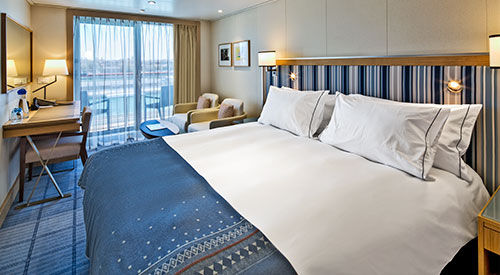 Size including veranda: 270 sq ft
11:00 a.m. embarkation
2:00 p.m. stateroom access
Priority shore excursion reservations: 67 days prior
1 guaranteed priority reservations at each specialty restaurant (60 days prior to departure)

King-size Viking Explorer bed with luxury linens
Large flat-screen LCD TV
Mini-bar with soft drinks, water & snacks, replenished once daily
In-suite binoculars, coffee maker & cashmere blanket
Luxury robes, slippers & toiletries
Direct dial satellite phone & cell service
Security safe, hair dryer, 110/220 volt outlets

Wi-Fi
Interactive TV & movies-on-demand
24-hour room service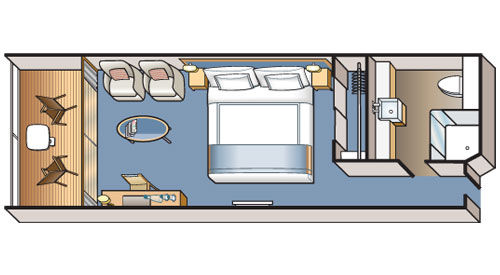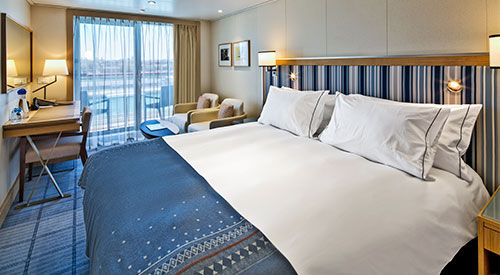 Size including veranda: 270 sq ft
11:00 a.m. embarkation
2:00 p.m. stateroom access
Priority shore excursion reservations: 67 days prior
1 guaranteed priority reservations at each specialty restaurant (60 days prior to departure)

King-size Viking Explorer bed with luxury linens
Large flat-screen LCD TV
Mini-bar with soft drinks, water & snacks, replenished once daily
In-suite binoculars, coffee maker & cashmere blanket
Luxury robes, slippers & toiletries
Direct dial satellite phone & cell service
Security safe, hair dryer, 110/220 volt outlets

Wi-Fi
Interactive TV & movies-on-demand
24-hour room service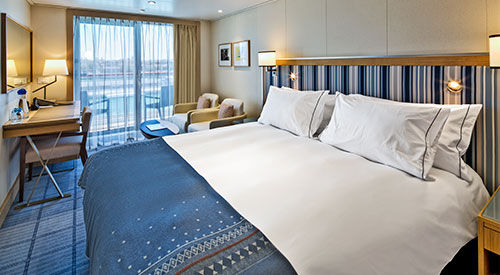 Size including veranda: 270 sq. ft.
11:00 a.m. embarkation
3:00 p.m. stateroom access
Priority shore excursion reservations: 60 days prior

King-size Viking Explorer bed with luxury linens
Large flat-screen LCD TV
Luxury toiletries
Direct dial satellite phone & cell service
Security safe, hair dryer, 110/220 volt outlets

Wi-Fi
Interactive TV & movies-on-demand
24-hour room service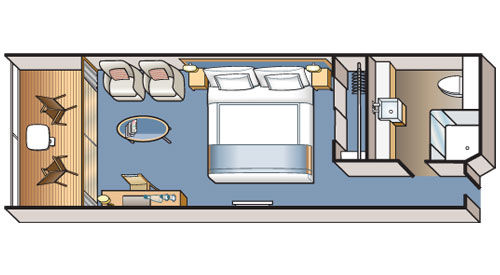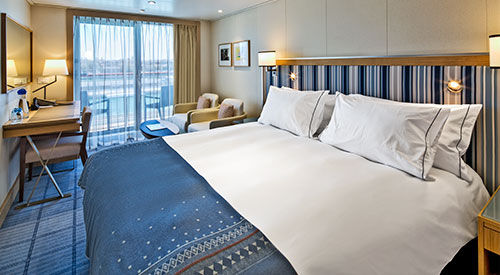 Size including veranda: 270 sq. ft.
11:00 a.m. embarkation
3:00 p.m. stateroom access
Priority shore excursion reservations: 60 days prior

King-size Viking Explorer bed with luxury linens
Large flat-screen LCD TV
Luxury toiletries
Direct dial satellite phone & cell service
Security safe, hair dryer, 110/220 volt outlets

Wi-Fi
Interactive TV & movies-on-demand
24-hour room service