Cruise Itinerary
| Date | Port | Arrive | Depart |
| --- | --- | --- | --- |
| 9 Jun 2023 | Kuri Bay, Western Australia | | 6:00 PM |
| 10 Jun 2023 | Kimberley Coast, Western Australia | | |
| 11 Jun 2023 | Kimberley Coast, Western Australia | | |
| 12 Jun 2023 | Kimberley Coast, Western Australia | | |
| 13 Jun 2023 | Kimberley Coast, Western Australia | | |
| 14 Jun 2023 | Kimberley Coast, Western Australia | | |
| 15 Jun 2023 | Kimberley Coast, Western Australia | | |
| 16 Jun 2023 | Broome, W A | 7:00 AM | |
PONANT invites you to experience Australia's unique and spectacular Kimberley coast in a remarkable new way, under sail aboard its emblematic yacht Le Ponant. The majestic three-masted yacht, with elegant lines and an intimate atmosphere for only 32 like-minded guests, is redefining barefoot luxury expeditions. A crew to guest ratio of more than 1 to 1 and an expedition staff to guest ratio of 1 to 8, combine to provide the pinnacle Kimberley expedition sailing experience. Unique to the experience, PONANT has partnered with the Paspaley group to include a spectacular scenic flight over the Kimberley landscape aboard their Grumman Mallard amphibious aircraft between Kununurra and Kuri Bay.

Often referred to as the "Antarctica of the tropics," the Kimberley is renowned for its natural beauty and cultural significance. It is the pristine environment, wild, rugged and remote landscapes that gives rise to the comparison. The ancient landscape is the epitome of a sunburnt country, the vast plains and rugged red sandstone gorges are quintessentially Australian and like nowhere else. The Kimberley is one of the world's last great Wilderness areas, and one of Australia's greatest natural assets.

The 13,000km of remote isolated coastline boasts more than 2,600 islands and is home to the oldest continuous culture on earth, the world's largest living reptile, the only two 'Horizontal Falls' on the planet, the world's largest inshore reef, extensive undisturbed mangrove forests, wild rivers, important seabird and marine turtle breeding colonies and the largest population of migrating humpback whales on the planet. It is a national biodiversity hotspot and listed in the top 4% of least impacted marine environments worldwide.

Our Barefoot luxury sailing expeditions are fully flexible itineraries with no predetermined destinations. With a maximum of 32 guests, we are able to create bespoke itineraries showcasing the changing environment throughout the dry season from April to September. Each day's activities will be determined by the Captain and Expedition Leader, taking into account the season, prevailing weather, tide and sea conditions to deliver the best experience possible.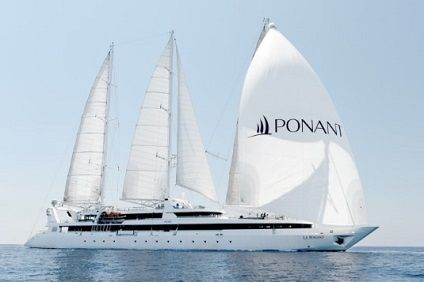 Something almost poetic takes place when you step onboard this spectacular three-master. The sparkle of the sea, the gentle kiss of the breeze on your skin, the lapping of the waves, the rustling of the wind in the sails, the scent of the fig trees as you approach the coast, the gourmet dishes showcasing local products and offering a voyage within a voyage; with all your senses fully awakened and alert, it's now time for a real holiday, a holiday that will stay with you forever. It's almost as if time stands still aboard this incredible luxury yacht.

Free as a bird…
PONANT's iconic and freshly refitted three-master now offers over 16 staterooms & suites and embodies a simple philosophy: the freedom to do or not to do.

Onboard Le Ponant, like on dry land, everyone is free to set their own pace. Some may decide to read a book on the Sun Deck or sip a cocktail while contemplating the distant horizon, or take a stand up paddleboard or kayak and head out to enjoy an even more immersive experience amongst the blue of the waves. Others will disembark to go exploring by bicycle or make the most of the soft light of dusk in the quaint streets of a pedestrianised harbour. Or perhaps others will opt to settle down comfortably in a little isolated cove or on a deserted beach accessible only from the sea.

One crew member per guest, a dedicated chef preparing fine gastronomic food showcasing the local culinary heritage, delightful ports of call and enchanting experiences: the luxury onboard is first and foremost a luxury of the senses and the emotions.

Experience,
explore and share life at sea
On this three-master, you live and breathe the experience of the sea each day more than on any other ship. A voyage aboard Le Ponant is a shared communal experience based on a common passion for sailing, travel, exploring new horizons and enjoying unique new experiences. The must-see sights are experienced differently here, and secluded spots far off the beaten track shared enthusiastically with others.

Sharing: a central tenet of a voyage aboard this iconic yacht. Because to step aboard is to join the PONANT adventure, to see the wonderful spectacle of sailing and navigation from behind the scenes, and to share a unique experience with just a few other privileged guests.

Serene and leisurely relaxation, discovery and exploration, experiencing the local culture or discussing sailing and navigation with a member of the crew: all the itineraries and ports-of-call have been designed and selected to provide a surprising and charmingly enchanting experience. And when child-friendly cruises take place twice each year, Le Ponant shares this same taste for discovery and exploration with them too, through a range of meaningful activities designed with children in mind.
Ship Profile & Stats
Length: 88m
Passenger capacity (dbl): 32
EXPERIENCE CRUISING ANOTHER WAY, DISCOVER THE MAGIC OF YACHT CRUISES.
Our mission is to transport you to mythical destinations and secret ports only accessible to small capacity ships.
To offer the delights of a French-inspired cuisine in an intimate environment - a discreet service where no attention to detail is spared - and unforgettable moments of relaxation on board elegant yachts of character.
To combine sophistication and conviviality, with priority given to authentic experiences, emotions and the ongoing quest for excellence.
Yacht cruises: more than a cruise, a privilege...
Attentive, professional, discreet and elegant, the fully bilingual service on board will meet your every desire. Our unique atmosphere is filled with a signature sentiment: a warm welcome from an experienced crew who are passionate about what they do, in the tradition of private yachting.
In the dining areas, our gourmet cuisine is worthy of top fine dining restaurants: exquisite wines are available, and menus are created with expertise by our skilled chefs with a French-inspired menu enhanced by specialties from our various ports of call.
Pleasure, enrichment, discovery: relax - we take care of everything...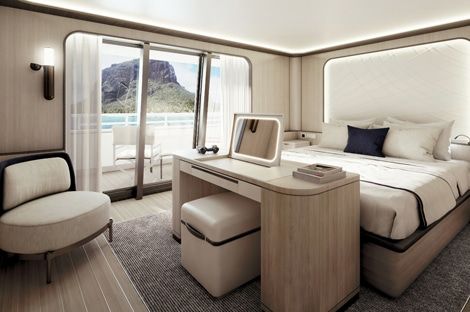 49 m²

Individually controlled air conditioning
Double bed (180 cm x 200 cm) or twin single beds (90 cm x 200 cm), depending on the cabin; adjoining cabins available (for child-friendly cruises)
Mini bar
Flat screen TV, satellite channels
Bose™ Bluetooth Speaker
Desk with writing supplies
Electronic safe
Selection of Dyptique Paris bath products
Dressing table and hairdryer
Direct phone line via satellite
110/220 volt outlets
24-hour room service
Unlimited free Wi-Fi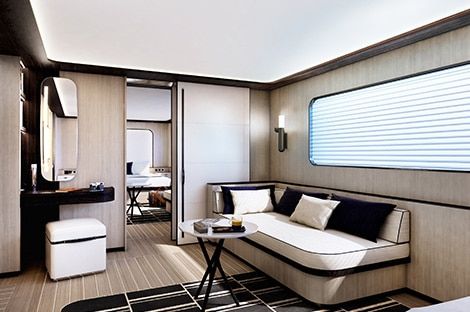 21 m²

Individually controlled air conditioning
Double bed (180 cm x 200 cm) or twin single beds (90 cm x 200 cm), depending on the cabin; adjoining cabins available (for child-friendly cruises)
Mini bar
Flat screen TV, satellite channels
Bose™ Bluetooth Speaker
Desk with writing supplies
Electronic safe
Selection of Dyptique Paris bath products
Dressing table and hairdryer
Direct phone line via satellite
110/220 volt outlets
24-hour room service
Unlimited free Wi-Fi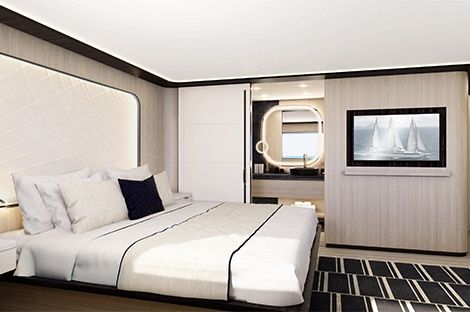 14 m²

Individually controlled air conditioning
Double bed (180 cm x 200 cm) or twin single beds (90 cm x 200 cm), depending on the cabin; adjoining cabins available (for child-friendly cruises)
Mini bar
Flat screen TV, satellite channels
Bose™ Bluetooth Speaker
Desk with writing supplies
Electronic safe
Selection of Dyptique Paris bath products
Dressing table and hairdryer
Direct phone line via satellite
110/220 volt outlets
24-hour room service
Unlimited free Wi-Fi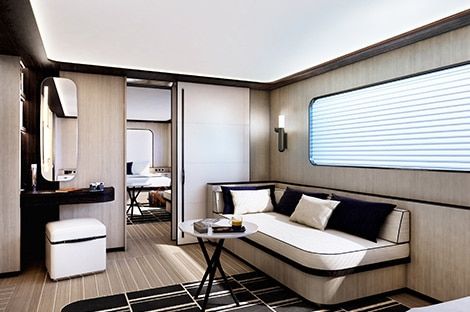 16 m²

Individually controlled air conditioning
Double bed (180 cm x 200 cm) or twin single beds (90 cm x 200 cm), depending on the cabin; adjoining cabins available (for child-friendly cruises)
Mini bar
Flat screen TV, satellite channels
Bose™ Bluetooth Speaker
Desk with writing supplies
Electronic safe
Selection of Dyptique Paris bath products
Dressing table and hairdryer
Direct phone line via satellite
110/220 volt outlets
24-hour room service
Unlimited free Wi-Fi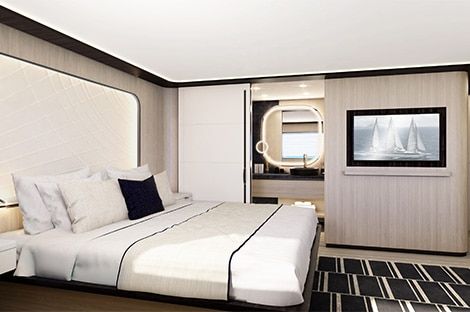 27 m²

Individually controlled air conditioning
Double bed (180 cm x 200 cm) or twin single beds (90 cm x 200 cm), depending on the cabin; adjoining cabins available (for child-friendly cruises)
Mini bar
Flat screen TV, satellite channels
Bose™ Bluetooth Speaker
Desk with writing supplies
Electronic safe
Selection of Dyptique Paris bath products
Dressing table and hairdryer
Direct phone line via satellite
110/220 volt outlets
24-hour room service
Unlimited free Wi-Fi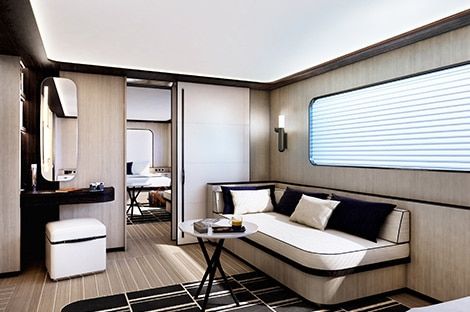 30 m²

Individually controlled air conditioning
Double bed (180 cm x 200 cm) or twin single beds (90 cm x 200 cm), depending on the cabin; adjoining cabins available (for child-friendly cruises)
Mini bar
Flat screen TV, satellite channels
Bose™ Bluetooth Speaker
Desk with writing supplies
Electronic safe
Selection of Dyptique Paris bath products
Dressing table and hairdryer
Direct phone line via satellite
110/220 volt outlets
24-hour room service
Unlimited free Wi-Fi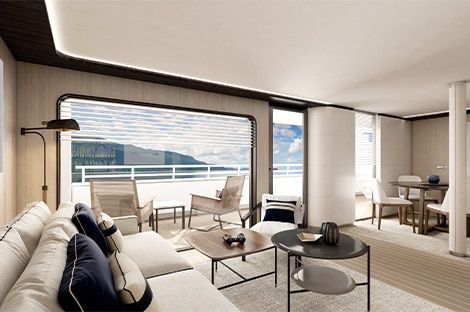 47 m²

Individually controlled air conditioning
Double bed (180 cm x 200 cm) or twin single beds (90 cm x 200 cm), depending on the cabin; adjoining cabins available (for child-friendly cruises)
Mini bar
Flat screen TV, satellite channels
Bose™ Bluetooth Speaker
Desk with writing supplies
Electronic safe
Selection of Dyptique Paris bath products
Dressing table and hairdryer
Direct phone line via satellite
110/220 volt outlets
24-hour room service
Unlimited free Wi-Fi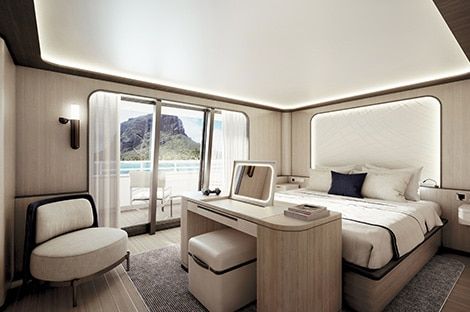 10 m²

Individually controlled air conditioning
Double bed (180 cm x 200 cm) or twin single beds (90 cm x 200 cm), depending on the cabin; adjoining cabins available (for child-friendly cruises)
Mini bar
Flat screen TV, satellite channels
Bose™ Bluetooth Speaker
Desk with writing supplies
Electronic safe
Selection of Dyptique Paris bath products
Dressing table and hairdryer
Direct phone line via satellite
110/220 volt outlets
24-hour room service
Unlimited free Wi-Fi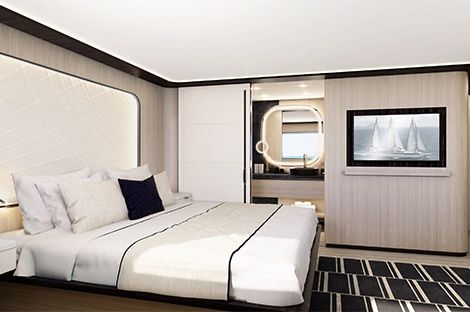 16 m²

Individually controlled air conditioning
Double bed (180 cm x 200 cm) or twin single beds (90 cm x 200 cm), depending on the cabin; adjoining cabins available (for child-friendly cruises)
Mini bar
Flat screen TV, satellite channels
Bose™ Bluetooth Speaker
Desk with writing supplies
Electronic safe
Selection of Dyptique Paris bath products
Dressing table and hairdryer
Direct phone line via satellite
110/220 volt outlets
24-hour room service
Unlimited free Wi-Fi