Cruise Itinerary
| Date | Port | Arrive | Depart |
| --- | --- | --- | --- |
| 26 Aug 2022 | Darwin, NT, Australia | | 5:00 PM |
| 27 Aug 2022 | King George River, Western Australia | | |
| 28 Aug 2022 | Vansittart Bay, Western Australia | | |
| 29 Aug 2022 | Ashmore Reef, Australia | | |
| 30 Aug 2022 | Careening Bay, WA | | |
| 31 Aug 2022 | Swift Bay | | |
| 1 Sep 2022 | Hunter River, West Australia | | |
| 2 Sep 2022 | Collier Bay, Western Australia | | |
| 3 Sep 2022 | Collier Bay, Western Australia | | |
| 4 Sep 2022 | Lacepede Islands, Western Australia | | |
| 5 Sep 2022 | Broome, W A | 7:00 AM | |
For your serenity, PONANT organises your transfer between the port and the airport. This package is included in your cruise fare.

Disembarkation day - Broome

Disembarkation.
Meet and greet at the port by our local representative, and group transfer from the port to the town centre or the airport.

For guests who have an afternoon flight or hotel check-in, enjoy time at leisure in the town centre before your group transfer from the Broome Visitor Center to the airport or the hotel Kimberley Sands.


Please note:
Local English-speaking assistance will be provided.To anticipate your group transfer upon disembarkation, please inform your travel agent about your departure flight details.

This programme is subject to change.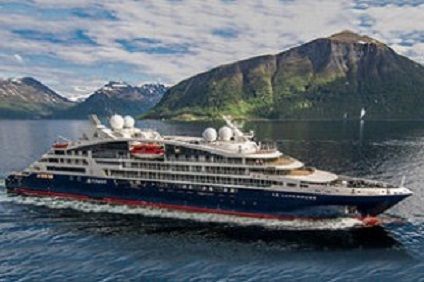 Featuring innovative and environmentally-friendly equipment, elegantly designed cabins, spacious suites with large windows, and lounge areas that open onto the outside, this new limited-capacity yacht boasting just 92 cabins and suites will offer you a truly unique cruising experience.

As the first ship in a new series that remains true to the Ponant spirit, Le Lapérouse will embody the unique atmosphere that is the cruise line's hallmark: a subtle blend of refinement, intimacy and comfort.

Aboard this ship that flies the French flag, you will experience the incomparable pleasure of an intimate cruise, with the possibility of exploring an ever-increasing range of destinations in an ethnic-chic ambiance with 5-star service.

Experience a luxurious setting where the accent is on authenticity and passion for travel.
Ship Profile & Stats
Maiden voyage: June 2018
Length: 131 metres
Ship registration: France
Passenger capacity (dbl): 184
Officer nationality: French
Ship Amenities
Individually Controlled Air Conditioning
Mini Bar
Flat Screen Television
Satellite Television
Ipod Players
Video on Demand
Safe
Hair Dryer
Bath Robes
Satellite direct line telephone
110/220 volts outlet
24hr room service
Internet acces wifi
Ship Facilities
Reception Desk
Boutique
Zodiac
Water Sports including Kayaking & Paddle-Boarding
Pool Deck
Swimming Pool
Solarium
Pool Bar & Lounge
Theatre
Main Lounge
Restaurant
Panoramic Lounge
Spa & Fitness Centre
EXPERIENCE CRUISING ANOTHER WAY, DISCOVER THE MAGIC OF YACHT CRUISES.
Our mission is to transport you to mythical destinations and secret ports only accessible to small capacity ships.
To offer the delights of a French-inspired cuisine in an intimate environment - a discreet service where no attention to detail is spared - and unforgettable moments of relaxation on board elegant yachts of character.
To combine sophistication and conviviality, with priority given to authentic experiences, emotions and the ongoing quest for excellence.
Yacht cruises: more than a cruise, a privilege...
Attentive, professional, discreet and elegant, the fully bilingual service on board will meet your every desire. Our unique atmosphere is filled with a signature sentiment: a warm welcome from an experienced crew who are passionate about what they do, in the tradition of private yachting.
In the dining areas, our gourmet cuisine is worthy of top fine dining restaurants: exquisite wines are available, and menus are created with expertise by our skilled chefs with a French-inspired menu enhanced by specialties from our various ports of call.
Pleasure, enrichment, discovery: relax - we take care of everything...





Services provided

24h room service
Butler service and priority boarding : Owner's suite, Grand de Luxe Suite, Privilege Suites, Prestige Suite Deck 6
Inclusive Internet access Wifi (availability dependent on navigation and latitude)
Individually-controlled air conditioning
Dressing room with shelves and closet
Dressing table and hairdryer
Selection of Hermès top-of-the-line bath products
Minibar included
Nespresso coffee maker and boiler
Electronic safe
Direct line telephone
Bose Bluetooth speaker
Flat screen TV, international channels (availability dependent on navigation) and videos on demand
110V American (two flat pins)/220V European (round sockets with two round pins)
Two ADA staterooms
Services provided

24h room service
Butler service and priority boarding : Owner's suite, Grand de Luxe Suite, Privilege Suites, Prestige Suite Deck 6
Inclusive Internet access Wifi (availability dependent on navigation and latitude)
Individually-controlled air conditioning
Dressing room with shelves and closet
Dressing table and hairdryer
Selection of Hermès top-of-the-line bath products
Minibar included
Nespresso coffee maker and boiler
Electronic safe
Direct line telephone
Bose Bluetooth speaker
Flat screen TV, international channels (availability dependent on navigation) and videos on demand
110V American (two flat pins)/220V European (round sockets with two round pins)
Two ADA staterooms
Services provided

24h room service
Butler service and priority boarding : Owner's suite, Grand de Luxe Suite, Privilege Suites, Prestige Suite Deck 6
Inclusive Internet access Wifi (availability dependent on navigation and latitude)
Individually-controlled air conditioning
Dressing room with shelves and closet
Dressing table and hairdryer
Selection of Hermès top-of-the-line bath products
Minibar included
Nespresso coffee maker and boiler
Electronic safe
Direct line telephone
Bose Bluetooth speaker
Flat screen TV, international channels (availability dependent on navigation) and videos on demand
110V American (two flat pins)/220V European (round sockets with two round pins)
Two ADA staterooms
Services provided

24h room service
Butler service and priority boarding : Owner's suite, Grand de Luxe Suite, Privilege Suites, Prestige Suite Deck 6
Inclusive Internet access Wifi (availability dependent on navigation and latitude)
Individually-controlled air conditioning
Dressing room with shelves and closet
Dressing table and hairdryer
Selection of Hermès top-of-the-line bath products
Minibar included
Nespresso coffee maker and boiler
Electronic safe
Direct line telephone
Bose Bluetooth speaker
Flat screen TV, international channels (availability dependent on navigation) and videos on demand
110V American (two flat pins)/220V European (round sockets with two round pins)
Two ADA staterooms
Services Provided:

24h room service
Butler service and priority boarding : Owner's suite, Grand de Luxe Suite, Privilege Suites, Prestige Suite Deck 6
Inclusive Internet access Wifi (availability dependent on navigation and latitude)
Individually-controlled air conditioning
Dressing room with shelves and closet
Dressing table and hairdryer
Selection of Hermès top-of-the-line bath products
Minibar included
Nespresso coffee maker and boiler
Electronic safe
Direct line telephone
Bose Bluetooth speaker
Flat screen TV, international channels (availability dependent on navigation) and videos on demand
110V American (two flat pins)/220V European (round sockets with two round pins)
Two ADA staterooms
Services Provided:

24h room service
Inclusive Internet access Wifi (availability dependent on navigation and latitude)
Individually-controlled air conditioning
Dressing room with shelves and closet
Dressing table and hairdryer
Selection of Hermès top-of-the-line bath products
Minibar included
Nespresso coffee maker and boiler
Electronic safe
Direct line telephone
Bose Bluetooth speaker
Flat screen TV, international channels (availability dependent on navigation) and videos on demand
110V American (two flat pins)/220V European (round sockets with two round pins)
Two ADA staterooms
108 sq.ft. private balcony
Individually-controlled air-conditioning
King-size bed or twin beds
Bathtub
Minibar
Flat screen
Satellite TV
Desk with stationery
Ipod(TM) players
Video on demand
Safe
Hairdryer
Bath robes
Satellite direct line telephone
110/220 volts outlet
French bath products
24hr room service
Internet acces wifi
108 sq.ft. private balcony
Individually-controlled air-conditioning
King-size bed or twin beds
Bathtub
Minibar
Flat screen
Satellite TV
Desk with stationery
Ipod(TM) players
Video on demand
Safe
Hairdryer
Bath robes
Satellite direct line telephone
110/220 volts outlet
French bath products
24hr room service
Internet acces wifi
8m² private balcony
Individually-controlled air-conditioning
King-size bed or twin beds
Bathtub
Minibar
Flat screen
Satellite TV
Desk with stationery
Ipod(TM) players
Video on demand
Safe
Hairdryer
Bath robes
Satellite direct line telephone
110/220 volts outlet
French bath products
24hr room service
Internet access wifi
8m² private balcony
Individually-controlled air-conditioning
King-size bed or twin beds
Bathtub
Minibar
Flat screen
Satellite TV
Desk with stationery
Ipod(TM) players
Video on demand
Safe
Hairdryer
Bath robes
Satellite direct line telephone
110/220 volts outlet
French bath products
24hr room service
Internet access wifi
Private balcony
Individually-controlled air-conditioning
King-size bed or twin beds
Shower
Minibar
Flat screen
Satellite TV
Desk with stationery
Ipod(TM) players
Video on demand
Safe
Hairdryer
Bath robes
Satellite direct line telephone
110/220 volts outlet
French bath products
24hr room service
Internet acces wifi
Private balcony
Individually-controlled air-conditioning
King-size bed or twin beds
Shower
Minibar
Flat screen
Satellite TV
Desk with stationery
Ipod(TM) players
Video on demand
Safe
Hairdryer
Bath robes
Satellite direct line telephone
110/220 volts outlet
French bath products
24hr room service
Internet acces wifi
Private balcony
Individually-controlled air-conditioning
King-size bed or twin beds
Shower
Minibar
Flat screen
Satellite TV
Desk with stationery
Ipod(TM) players
Video on demand
Safe
Hairdryer
Bath robes
Satellite direct line telephone
110/220 volts outlet
French bath products
24hr room service
Internet acces wifi

Private balcony
Individually-controlled air-conditioning
King-size bed or twin beds
Shower
Minibar
Flat screen
Satellite TV
Desk with stationery
Ipod(TM) players
Video on demand
Safe
Hairdryer
Bath robes
Satellite direct line telephone
110/220 volts outlet
French bath products
24hr room service
Internet acces wifi