Cruise Itinerary
| Date | Port | Arrive | Depart |
| --- | --- | --- | --- |
| 28 Oct 2022 | Sydney, NSW, Australia | | 4:00 PM |
| 29 Oct 2022 | At Sea | | |
| 30 Oct 2022 | At Sea | | |
| 31 Oct 2022 | Adelaide, S A. | 7:00 AM | |
3 Night Cruise sailing from Sydney, NSW, Australia onboard Pacific Explorer
Get ready to explore our Pacific Explorer! Whiz down waterslides by day, enjoy great restaurants and bars in the evening and catch an edgy new stage show at night. There's something for every member of the family.

When it comes to dining guests will be spoilt for choice with 12 dining experiences all included in the cruise fare

All this combined with P&O's stylish yet relaxed modern Australian interior designs. We can't wait to welcome you onboard.

WATERSLIDES:
The young and the young at heart will enjoy hours of fun on the two waterslides. One is disco themed and features bright lights and music the whole way down!

ADVENTURE ACTIVITIES:
Choose your Adventure with P&O Edge. The P&O Edge Adventure Park is your ticket to action and excitement. Try Rock Climbing, The Flying Fox, Walk the Plank and more.

STAGE SHOWS:
All of our exciting and exclusive shows have been especially designed for P&O Cruises with you in mind. Let us entertain you with a huge range of exciting shows including Let's Misbehave, Love Riot, Rock - Anthem of Ages, Slumber, Seven and more….Whatever you're into, we've got something to make you smile.

FIND YOUR NEW LOCAL:
Well known for our social bar scene, Pacific Explorer takes night life to the next level with a huge range of inviting bars and pubs.
Ship Profile & Stats
Maiden voyage: 1997
Refurbished: 2016
Tonnage: 77,441
Length: 260 m
Passenger capacity (dbl): 1998
Ship Amenities
Fridge
Air Conditioning
Safety Deposit Box
Telephone
Flat Screen TV
Ship Facilities
Explorer Hotel
The Bonded Store
Waterfront Restaurant
Charlies Bar
Angelos
Dragon Lady
Black Circus
400 Gradi
Lawn Bowls
Ice Cream
The Oasis
Big Screen
Lukes
Shell & Bones
The Pantry
Waterslides & Waterpark
Swimming Pools
Sports Court
Photo Shop
Beauty Salon
Kids Club
Saunas
Spa
Aerobics
Massage
Fitness Centre
Casino
Marquee Theatre
Medical Centre
Blue Room
Chef'sTable
Ocean Bar
P&O invented cruising in the mid-1800s and it has been synonymous with the industry ever since, sailing its famous white ships across the seven seas. P&O's first cruise in this region took place from Australia at Christmas 1932 when Strathaird sailed for Norfolk Island with a full and expectant complement of passengers.
Did you realise that on any P&O Cruises holiday your fare includes accommodation, all main meals, entertainment and activities, not to mention a new horizon every day? The fact is, when you cruise with P & O, you're getting the best holiday value money can buy. Compare the inclusions on offer and try to imagine a land-based holiday that can match such incredible value!
Today, P&O continues the tradition providing Australian and New Zealanders with quality, value-for-money itineraries.
Onboard there is always something to do. From lavish cabaret performances to live bands, and sporting activities to crafts and bingo. You can do it all, or you can do nothing at all.
All shipboard activities and entertainment are under the supervision of experienced Cruise Staff, made up of the Cruise Director and Assistant, Social Directors, Sports and Entertainment Staff, Shore Tour Manager and Childcare Co-ordinators.
They will help you make new friends, arrange all shipboard functions and give information on the ports of call.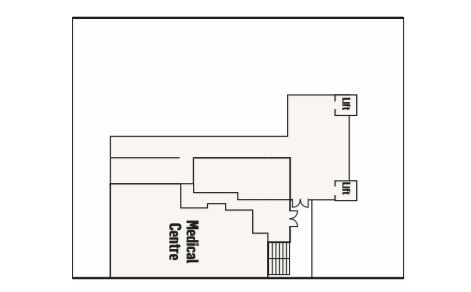 Penthouse Suite featuring twin beds that convert to a Queen bed plus a Sofa which converts to a double sofa bed, and a balcony.

Average Suite size is 686 Square Feet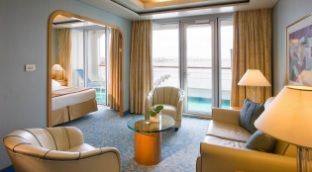 Offering the high life on the high seas with a balcony, separate sitting area, priority embarkation, complimentary laundry service, a Nespresso coffee machine, iPod music system and an invitation to the Senior Officers Cocktail (on cruises of 5 nights or more).
Suites feature all of the luxuries of a hotel room, including:

Private balcony and spacious living area
Floor to ceiling windows
Bathroom with bath and shower
Telephone
Flat screen TV
Walk-in wardrobe with dressing area, desk with chair
Safety deposit box
Fridge
CD/DVD player, fully loaded iPod with docking station
Air-conditioning with personal controls
Priority embarkation and disembarkation
Pillow concierge (choice of up to 6 different types of pillows)
Invitation to senior officer's private cocktail party (on cruises over 5 nights)
Complimentary bottled water and laundry service
Coffee machine
iPod music player
Welcome aboard letter from Hotel Director
Priority tender tickets
Priority dining reservations
Priority spa reservations
Priority bookings for shore tours
Canapes on cocktail evenings
Welcome glass of sparkling wine on arrival
Priority spa reservations
Fresh fruit bowl provided in suite
Premium bathroom amenities
Complimentary bathrobe and slippers
Turndown service
Complimentary shoe shine service
Optional complimentary afternoon tea served in suite
Optional complimentary breakfast served in suite

Average Suite size is 526 Square Feet
Fresh air and far out views are all part of the furniture in our Mini-Suites. With all the action on deck and ashore, it's nice to know there's a cosy, clean sanctuary with your name on it, equipped with everything you need. Mini-Suites feature all of the luxuries of a hotel room, including: Private balcony and spacious living area Floor to ceiling windows Bathroom with shower over bath Flat screen TV Telephone Safety deposit box Wardrobe with dressing area, desk with chair Fridge Air-conditioning with personal controls Priority embarkation and disembarkation Pillow concierge (choice of up to 6 different types of pillows) Welcome aboard letter from Hotel Director Welcome glass of sparkling wine on arrival Fresh fruit bowl provided in suite Complimentary bath robe and slippers Turndown service Complimentary shoe shine service Average Suite size is 370 Square Feet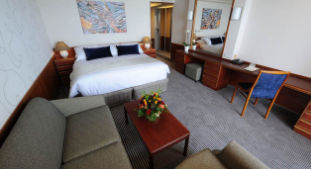 Fresh air and far out views are all part of the furniture in our Mini-Suites. With all the action on deck and ashore, it's nice to know there's a cosy, clean sanctuary with your name on it, equipped with everything you need.
Mini-Suites feature all of the luxuries of a hotel room, including:

Private balcony and spacious living area
Floor to ceiling windows
Bathroom with shower over bath
Flat screen TV
Telephone
Safety deposit box
Wardrobe with dressing area, desk with chair
Fridge
Air-conditioning with personal controls
Priority embarkation and disembarkation
Pillow concierge (choice of up to 6 different types of pillows)
Welcome aboard letter from Hotel Director
Welcome glass of sparkling wine on arrival
Fresh fruit bowl provided in suite
Complimentary bath robe and slippers
Turndown service
Complimentary shoe shine service

Average Suite size is 370 Square Feet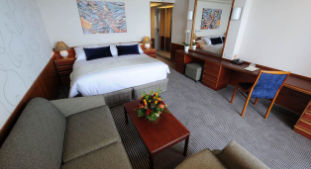 Fresh air and far out views are all part of the furniture in our Mini-Suites. With all the action on deck and ashore, it's nice to know there's a cosy, clean sanctuary with your name on it, equipped with everything you need.
Mini-Suites feature all of the luxuries of a hotel room, including:

Private balcony and spacious living area
Floor to ceiling windows
Bathroom with shower over bath
Flat screen TV
Telephone
Safety deposit box
Wardrobe with dressing area, desk with chair
Fridge
Air-conditioning with personal controls
Priority embarkation and disembarkation
Pillow concierge (choice of up to 6 different types of pillows)
Welcome aboard letter from Hotel Director
Welcome glass of sparkling wine on arrival
Fresh fruit bowl provided in suite
Complimentary bath robe and slippers
Turndown service
Complimentary shoe shine service

Average Suite size is 370 Square Feet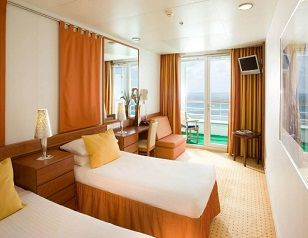 Open your doors and let the outside in! Make the most of your time at sea with your own private Balcony Room, it's the best way to enjoy all the comfort of our onboard rooms and all the beauty of living on the ocean. With all the action on deck and ashore, it's nice to know there's a cosy, clean sanctuary with your name on it that's equipped with everything you need.
Balcony rooms feature all of the luxuries of a hotel room including:

Private balcony with outdoor furniture
Private ensuite, shower only
Flat screen TV
Telephone
Wardrobe, desk with chair
Safety deposit box
Air-conditioning with personal controls
Fridge

Average Cabin size is 179 Square Feet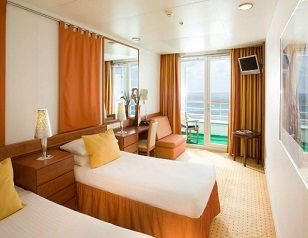 Open your doors and let the outside in! Make the most of your time at sea with your own private Balcony Room, it's the best way to enjoy all the comfort of our onboard rooms and all the beauty of living on the ocean. With all the action on deck and ashore, it's nice to know there's a cosy, clean sanctuary with your name on it that's equipped with everything you need.
Balcony rooms feature all of the luxuries of a hotel room including:

Private balcony with outdoor furniture
Private ensuite, shower only
Flat screen TV
Telephone
Wardrobe, desk with chair
Safety deposit box
Air-conditioning with personal controls
Fridge
Average Cabin size is 179 Square Feet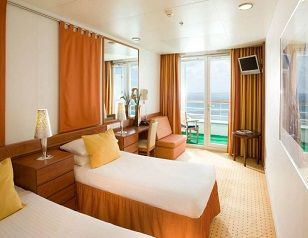 Open your doors and let the outside in! Make the most of your time at sea with your own private Balcony Room, it's the best way to enjoy all the comfort of our onboard rooms and all the beauty of living on the ocean. With all the action on deck and ashore, it's nice to know there's a cosy, clean sanctuary with your name on it that's equipped with everything you need.
Balcony rooms feature all of the luxuries of a hotel room including:

Private balcony with outdoor furniture
Private ensuite, shower only
Flat screen TV
Telephone
Wardrobe, desk with chair
Safety deposit box
Air-conditioning with personal controls
Fridge

Average Cabin size is 179 Square Feet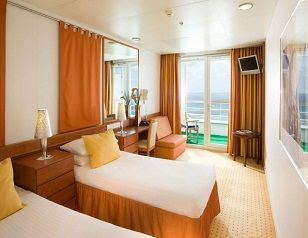 Open your doors and let the outside in! Make the most of your time at sea with your own private Balcony Room, it's the best way to enjoy all the comfort of our onboard rooms and all the beauty of living on the ocean. With all the action on deck and ashore, it's nice to know there's a cosy, clean sanctuary with your name on it that's equipped with everything you need.
Balcony rooms feature all of the luxuries of a hotel room including:

Private balcony with outdoor furniture
Private ensuite, shower only
Flat screen TV
Telephone
Wardrobe, desk with chair
Safety deposit box
Air-conditioning with personal controls
Fridge

Average Cabin size is 179 Square Feet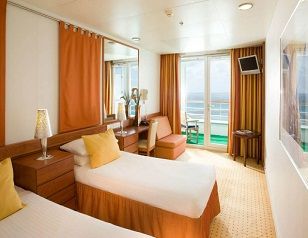 Open your doors and let the outside in! Make the most of your time at sea with your own private Balcony Room, it's the best way to enjoy all the comfort of our onboard rooms and all the beauty of living on the ocean. With all the action on deck and ashore, it's nice to know there's a cosy, clean sanctuary with your name on it that's equipped with everything you need.
Balcony rooms feature all of the luxuries of a hotel room including:

Private balcony with outdoor furniture
Private ensuite, shower only
Flat screen TV
Telephone
Wardrobe, desk with chair
Safety deposit box
Air-conditioning with personal controls
Fridge

Average Cabin size is 179 Square Feet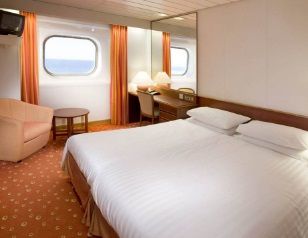 Oceanview rooms feature a window or porthole so you won't miss a single ocean view. With all the action on deck and ashore, it's nice to know there's a cosy, clean sanctuary with your name on it, equipped with everything you need. Oceanview rooms are available in a range bedding combinations including twin, double, triple and quad share.
Available on all ships across the fleet, Oceanview rooms feature all of the luxuries of a hotel room including:

A window or porthole
Private ensuite, shower only
Flat screen TV
Telephone
Wardrobe, desk with chair
Safety deposit box
Air-conditioning with personal controls
Fridge

Average Cabin size is 173 Square Feet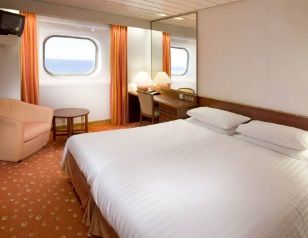 Oceanview rooms feature a window or porthole so you won't miss a single ocean view. With all the action on deck and ashore, it's nice to know there's a cosy, clean sanctuary with your name on it, equipped with everything you need. Oceanview rooms are available in a range bedding combinations including twin, double, triple and quad share.
Available on all ships across the fleet, Oceanview rooms feature all of the luxuries of a hotel room including:

A window or porthole
Private ensuite, shower only
Flat screen TV
Telephone
Wardrobe, desk with chair
Safety deposit box
Air-conditioning with personal controls
Fridge
Average Cabin size is 155 Square Feet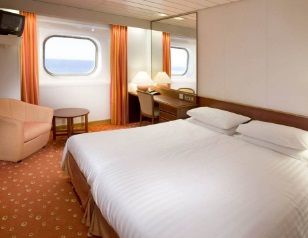 Oceanview rooms feature a window or porthole so you won't miss a single ocean view. With all the action on deck and ashore, it's nice to know there's a cosy, clean sanctuary with your name on it, equipped with everything you need. Oceanview rooms are available in a range bedding combinations including twin, double, triple and quad share.
Available on all ships across the fleet, Oceanview rooms feature all of the luxuries of a hotel room including:

A window or porthole
Private ensuite, shower only
Flat screen TV
Telephone
Wardrobe, desk with chair
Safety deposit box
Air-conditioning with personal controls
Fridge

Average Cabin size is 155 Square Feet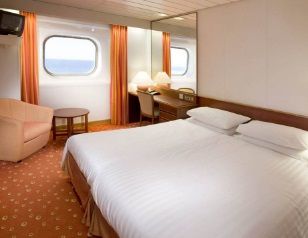 Oceanview rooms feature a window or porthole so you won't miss a single ocean view. With all the action on deck and ashore, it's nice to know there's a cosy, clean sanctuary with your name on it, equipped with everything you need. Oceanview rooms are available in a range bedding combinations including twin, double, triple and quad share.
Available on all ships across the fleet, Oceanview rooms feature all of the luxuries of a hotel room including:

A window or porthole
Private ensuite, shower only
Flat screen TV
Telephone
Wardrobe, desk with chair
Safety deposit box
Air-conditioning with personal controls
Fridge
Average Cabin size is 155 Square Feet
Oceanview rooms feature a window or porthole so you won't miss a single ocean view. With all the action on deck and ashore, it's nice to know there's a cosy, clean sanctuary with your name on it, equipped with everything you need. Oceanview rooms are available in a range bedding combinations including twin, double, triple and quad share. Available on all ships across the fleet, Oceanview rooms feature all of the luxuries of a hotel room including: A window or porthole Private ensuite, shower only Flat screen TV Telephone Wardrobe, desk with chair Safety deposit box Air-conditioning with personal controls Fridge Average Cabin size is 155 Square Feet
Oceanview rooms feature a window or porthole so you won't miss a single ocean view. With all the action on deck and ashore, it's nice to know there's a cosy, clean sanctuary with your name on it, equipped with everything you need. Oceanview rooms are available in a range bedding combinations including twin, double, triple and quad share.
Available on all ships across the fleet, Oceanview rooms feature all of the luxuries of a hotel room including:

A window or porthole
Private ensuite, shower only
Flat screen TV
Telephone
Wardrobe, desk with chair
Safety deposit box
Air-conditioning with personal controls
Fridge

Obstructed Oceanview Cabin featuring twin beds that may convert to a Queen.

Average Cabin size is 155 Square Feet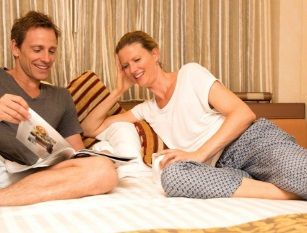 Wake up with your loved ones! Our Interior rooms are perfect for both families and couples. With all the action on deck and ashore, it's nice to know there's a cosy, clean sanctuary with your name on it, equipped with everything you need. Interior rooms are available in a range bedding combinations including twin, double, triple and quad share.
Interior rooms feature all of the luxuries of a hotel room including:

Private ensuite, shower only
Flat screen TV
Telephone
Wardrobe, desk with chair
Safety deposit box
Air-conditioning with personal controls
Fridge
Average cabin size is 135 SQ FT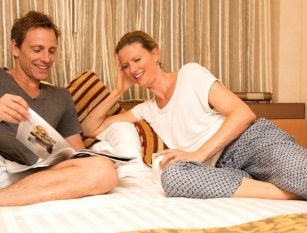 Wake up with your loved ones! Our Interior rooms are perfect for both families and couples. With all the action on deck and ashore, it's nice to know there's a cosy, clean sanctuary with your name on it, equipped with everything you need. Interior rooms are available in a range bedding combinations including twin, double, triple and quad share.
Interior rooms feature all of the luxuries of a hotel room including:

Private ensuite, shower only
Flat screen TV
Telephone
Wardrobe, desk with chair
Safety deposit box
Air-conditioning with personal controls
Fridge

Average cabin size is 135 SQ FT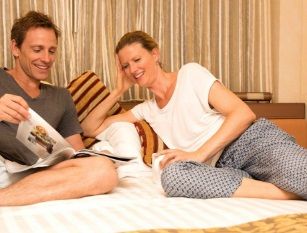 Wake up with your loved ones! Our Interior rooms are perfect for both families and couples. With all the action on deck and ashore, it's nice to know there's a cosy, clean sanctuary with your name on it, equipped with everything you need. Interior rooms are available in a range bedding combinations including twin, double, triple and quad share.
Interior rooms feature all of the luxuries of a hotel room including:

Private ensuite, shower only
Flat screen TV
Telephone
Wardrobe, desk with chair
Safety deposit box
Air-conditioning with personal controls
Fridge

Average cabin size is 135 SQ FT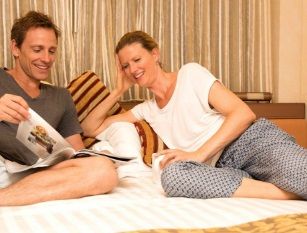 Wake up with your loved ones! Our Interior rooms are perfect for both families and couples. With all the action on deck and ashore, it's nice to know there's a cosy, clean sanctuary with your name on it, equipped with everything you need. Interior rooms are available in a range bedding combinations including twin, double, triple and quad share.
Interior rooms feature all of the luxuries of a hotel room including:

Private ensuite, shower only
Flat screen TV
Telephone
Wardrobe, desk with chair
Safety deposit box
Air-conditioning with personal controls
Fridge

Average cabin size is 135 SQ FT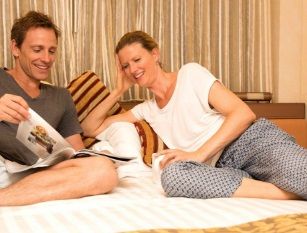 Wake up with your loved ones! Our Interior rooms are perfect for both families and couples. With all the action on deck and ashore, it's nice to know there's a cosy, clean sanctuary with your name on it, equipped with everything you need. Interior rooms are available in a range bedding combinations including twin, double, triple and quad share.
Interior rooms feature all of the luxuries of a hotel room including:

Private ensuite, shower only
Flat screen TV
Telephone
Wardrobe, desk with chair
Safety deposit box
Air-conditioning with personal controls
Fridge

Average cabin size is 135 SQ FT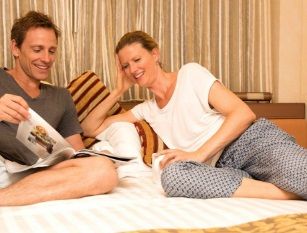 Wake up with your loved ones! Our Interior rooms are perfect for both families and couples. With all the action on deck and ashore, it's nice to know there's a cosy, clean sanctuary with your name on it, equipped with everything you need. Interior rooms are available in a range bedding combinations including twin, double, triple and quad share.
Interior rooms feature all of the luxuries of a hotel room including:

Private ensuite, shower only
Flat screen TV
Telephone
Wardrobe, desk with chair
Safety deposit box
Air-conditioning with personal controls
Fridge

Average cabin size is 135 SQ FT