Cruise Itinerary
| Date | Port | Arrive | Depart |
| --- | --- | --- | --- |
| 3 Jul 2022 | Hamilton Island, Queensland, Australia | | |
| 4 Jul 2022 | Whitsunday Islands, Queensland, Australia | | |
| 5 Jul 2022 | Cid Harbour, Qld, Australia | | |
| 6 Jul 2022 | Hook Island, Queensland, Australia | | |
| 7 Jul 2022 | Hayman Island, Queensland, Australia | | |
| 8 Jul 2022 | Hardy Reef, Queensland, Australia | | |
| 9 Jul 2022 | Hamilton Island, Queensland, Australia | | |
6 Night Cruise sailing from Hamilton Island roundtrip aboard Corroboree.

Day 1 Hamilton Island – Perseverance Reef – Dent Island
10.00am boarding time on superyacht Corroboree for YOTSPACE voyage. Arrive at Hamilton Island via air transfer from Brisbane, Sydney or Melbourne, or by boat from Coral Sea Marina and board the superyacht Corroboree at Hamilton Island Marina. Hamilton is the largest island in the Whitsunday's. Meet the crew, tour the yacht and enjoy lunch on-board. Late afternoon cruise around to Perseverance Reef or Dent Island, with great swimming and snorkelling in clear water. Enjoy world class cuisine and enjoy the company of fellow travellers.

Day 2 NECK BAY
Secluded and quiet, Neck Bay is a favourite Whitsunday's hangout among yachtsmen, with fantastic snorkelling. Spot many of the islands' 1,500 species of fish, 360 species of hard coral, thousands of molluscs and hundreds of Starfish. The Whitsunday's is also home to over 30% of the world's soft corals. Marine turtles, whales and dolphins also swim these waters. It's time to take out the superyacht toys, kayak, stand-up paddle boards. Enjoy world class cuisine and enjoy the company of fellow travellers Overnight at anchor.
 
Day 3 CID ISLAND – Molle Islands
Continue to Cid Island. You'll be welcomed by bays, beaches and calm waters protected from the breeze. Spend the afternoon kayaking through the mangroves. For the ultimate Whitsundays sunset, we head to Katoomba Bank or the west coast overlooking the Molle Islands. Relax on the superyacht and enjoy the state of the art entertainment system and high speed internet or play in the aqua blue waters on the water sports equipment. Drop anchor in front of Hill Rock Reef or Cid Harbour for evening and overnight. Enjoy world class cuisine and enjoy the company of fellow travellers.

Day 4 HOOK ISLAND – Whitsunday Peak – Nara Inlet
After breakfast, hike the 5km trail up to Whitsunday Peak, about 1.5 hours, and take in spectacular views from the top. Back on-board, enjoy an afternoon of fun along the west coast of Whitsunday Island, one of the only parts of the islands where jet skis and other personal watercrafts are authorised. Later, cruise on to Hook Island. Separated from Whitsunday Island by a narrow passage, Hook Island offers vibrant waters for diving and snorkelling, with turtles, reef fish, dolphins, manta rays and humpback whales (June to Sept) frolicking in Whitsunday Passage. On land, enjoy fjord-like inlets, forest walks, pure blue waters and white beaches. For a culture hit, walk the trail at Nara Inlet and take in the waterfall and the Aboriginal rock art created by the original Ngaro people. Enjoy world class cuisine and enjoy the company of fellow travellers.

Day 5 HAYMAN ISLAND – Blue Pearl Bay – Hook Island
Depart Hook Island towards Blue Pearl Bay on Hayman Island to explore underwater and experience some of the Whitsunday's richest coral life. Alternatively, spend the morning on the sandbank on the west coast of Langford Island, where the crew will prepare a beach barbecue. Spend the afternoon snorkelling in Butterfly Bay on the Northern tip of Hook Island, exploring coral outcrops teeming with small colourful reef fish. Later, depart for the outer reef. Dine with a specialist dive guide brought on-board for tomorrow's rendezvous diving session (If confirmed by guests and approved by the Captain). Overnight at Hardy reef. Enjoy world class cuisine and enjoy the company of fellow travellers.

Day 6 HARDY REEF
Today, discover Australia's outer reef. Your dive guide will show you nearby drop-offs where you'll find turtles, reef sharks and barracuda. Snorkelling is excellent, with Trevally, Coral Trout, Snapper, Giant Maori Wrasse and Giant Queensland Groper two metres long. Dine on-board on freshly caught seafood with stunning views. Optional Extras: See the reefs by helicopter, including the world famous Heart Reef. Enjoy world class cuisine and enjoy the company of fellow travellers.

Day 7 WHITEHAVEN BEACH – Dumbell Island – Hamilton Island
Start the day in Dumbell Island, where you can feed sea eagles off the aft deck. Hike up Hill Inlet to take in some of the best views in the world, a swirl of aqua and white as sands shift through waters. Award winning Whitehaven beach, the postcard view of the Whitsunday's, is awe inspiring, with brilliant white silica sand that is among the purest in the world and remains cool, so you can walk its full 7km stretch. Enjoy world class cuisine and enjoy the company of fellow travellers Later, short cruise to Hamilton Island for disembarkation. 10.00am Farewell your superyacht crew and fellow guests today.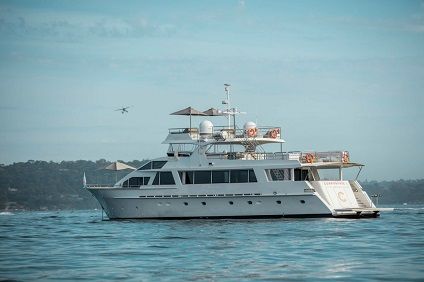 Corroboree is a 33mt (110ft) superyacht that takes her name from the Aboriginal word meaning "gathering or ceremony" making her the perfect choice for a YOTSPACE holiday.

Guests can enjoy their included fine Australian wines, sparkling wines, beers, basic spirits and cocktails whilst cruising Australian waters enjoying freshly prepared meals by an on-board chef, all served by an attentive crew.

The Corroboree superyacht was custom designed to cruise the waters of Australia and the Great Barrier Reef and is fitted with stabilizers to minimize boat roll in all weather conditions. The yacht offers a spacious upper sundeck, complete with alfresco dining table and seating, sky bar, sun lounges and barbeque area.
Ship Profile & Stats
Length: 33 m
Passenger capacity (dbl): 10
Ship Facilities
Water Toys
Swim Platform
Sun Deck
Al Fresco Dining
Sky Bar
Sun Lounges
BBQ Area
Saloon
We believe that the luxury superyacht experience should be more accessible to a greater number of people.
We have created meticulously planned voyages that allow everyday people to book a YOTSPACE voyage, at a price they never thought possible.
Our companies DNA for YOTSPACE superyacht voyages is that our guests be intimately connected to the regions and locations that we visit by offering impactful experiences without compromising on their luxury travel style.
Each one of our carefully curated superyacht voyages are all-inclusive tailored itineraries that explore destinations of natural scenic beauty, historic and cultural interest, all whilst cruising the marine wonderland of our world's oceans.
Our superyacht Captains meticulously plan these voyages to take advantage of the seasons, locations and the marine life activity, showcasing the sights and wonders of the ocean, rivers and her islands from the deck of a luxury superyacht.
Our YOTSPACE guest numbers are strictly limited to the number of cabins on each of our superyachts, ensuring an ultra-luxury, intimate travel experience.
Whilst on our voyages, guests are looked after by the professionally trained superyacht crew members. As your hosts, they are well versed in offering the highest level of 5 star service ensuring your voyage will be one that you will never forget.
YOTSPACE voyages are all-inclusive of luxury double, twin, single cabin space, the very best of 5 star cuisine and beverages to match, all superyacht in-water toys, and the activities mentioned in your chosen voyage itinerary.
Please join us for an ultra special expedition on one of our curated superyacht voyages.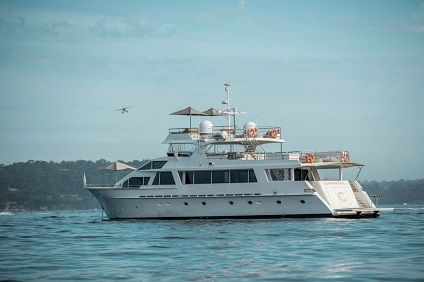 1 King – Middle Forward Port
2 Queen – Port & Starboard
2 x 1 Double – 1 King Single – Forward Starboard