Cruise Itinerary
| Date | Port | Arrive | Depart |
| --- | --- | --- | --- |
| 30 Jun 2023 | Darwin, NT, Australia | | 5:30 PM |
| 1 Jul 2023 | At Sea | | |
| 2 Jul 2023 | Wyndham, Western Australia | 6:30 AM | 6:00 PM |
| 3 Jul 2023 | Koolama Bay, W A | 6:00 AM | 11:00 AM |
| 4 Jul 2023 | Ashmore Reef, Australia | 9:00 AM | 11:15 AM |
| 5 Jul 2023 | Hunter River, West Australia | 6:30 AM | 6:00 PM |
| 6 Jul 2023 | Talbot Bay, Western Australia | 7:30 AM | 7:00 PM |
| 7 Jul 2023 | Montgomery Reef, W A | 5:30 AM | 10:00 AM |
| 7 Jul 2023 | Freshwater Cove | 12:30 PM | 6:00 PM |
| 8 Jul 2023 | Swift Bay | 6:00 AM | 12:00 PM |
| 9 Jul 2023 | At Sea | | |
| 10 Jul 2023 | Darwin, NT, Australia | 6:00 AM | |
Leaving Darwin's uniquely tropical shores, get ready to discover a region that will puts the amaze into amazing. From soaring sandstone cliffs and saltwater crocodiles to underwater islands and Aboriginal rock art, the Kimberley is like nowhere else on Earth. Often described as one of the last remaining authentic wildernesses, the Kimberley is every explorer's final frontier. Join us on this 10-day exploration and discovery why you too need to experience the region that time forgot.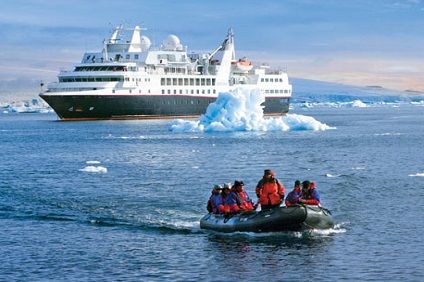 Silversea's purpose-built luxury Silver Explorer expedition cruise ship has been designed specifically for navigating waters in some of the world's most remote destinations, including both of earth's polar regions. A strengthened hull with a Lloyd's Register ice-class notation (1A) for passenger vessels enables the Silver Explorer Expedition Cruise Ship to safely push through ice floes with ease. A fleet of 12 Zodiac boats allows Silversea Expedition guests to visit even the most off-the-beaten path locations and an expert Expedition Team provides insight and understanding to each unforgettable Silver Explorer luxury cruise adventure.
Ship Profile & Stats
Refurbished: 2017
Tonnage: 6,072 Tons
Length: 354 ft
Beam: 52 ft
Speed: 14 knots
Ship registration: Bahamas
Passenger capacity (dbl): 144
Crew nationality: International
Officer nationality: European
Dining nationality: International
Ship Amenities
Butler Service
Refrigerator and bar setup stocked with your preferences
Personalised stationary
Umbrella
Direct Dial Telephone
220-volt outlets
WiFi Internet access an hour per day
Flat-screen television(s) with Interactive Media Library
Fitted wardrobe with personal safe
Hair Dryer
Alarm with iHome docking station
Plush Etro® bathrobe
Ship Facilities
The Restaurant
Beauty Salon
Fitness Centre
Medical Centre
Laundrette
Shopping Boutiques
Connoisseur's Corner
Panorama Lounge
Tor's Observation Lounge
Explorer Lounge
Zagara Spa
The Grill
Viewing Deck
Art inspires. Awakens your emotions and stimulates your thoughts.
In the quiet calm of morning, your private veranda becomes a place of true inspiration. Surrounded by the magnificence of the dawning day, at one with the vista of sea and sky, in awe of nature and the vast beauty of this world. The shoreline of the next port slides closer and closer into view, and with it an undeniable anticipation of things to come and the promise of limitless possibilities.
Silversea creates exceptional ocean journeys with unique opportunities to explore remote ports-of-call from an intimate haven of incomparable luxury, each voyage a unique masterpiece. Discover genuine European expertise reflected in every detail, from our tranquil all-suite accommodation and uncompromising service to distinctive fine dining and a carefree all-inclusive philosophy.
Our guests hail from across the globe, yet share an appreciation for the spectrum of choice offered in Silversea's array of exotic destinations and exclusive explorations ashore. By blending these elements together with enrichment experiences, each new port becomes more than a destination, it becomes a state of mind, transcending the traditional concepts of cruising. It is this distinction that has earned Silversea the reputation of World's Best.
ALL-INCLUSIVE VALUE
COMPLIMENTARY BEVERAGES SERVED THROUGHOUT THE SHIP
An extensive selection of fine wines, champagne, spirits, bottled water and soft drinks are yours to enjoy — all courtesy of Silversea.
IN-SUITE BEVERAGE CABINET STOCKED WITH OUR COMPLIMENTS
Besides the chilled bottle of champagne that awaits you, every suite features a beverage cabinet stocked with your preferred assortment of complimentary beverages.
COMPLIMENTARY IN-SUITE DINING AND 24-HOUR ROOM SERVICE
A formal dinner served course-by-course, a late-night snack, or a full breakfast delivered at your request — with no charge and no tipping.
COMPLIMENTARY SILVERSEA EXPERIENCE®
A shoreside event exclusively for Silversea guests on select voyages. Recent outings have included dinner in the desert in Namibia and a concert at the ruins of Ephesus.
A FULL SPECTRUM OF ENTERTAINMENT AND ENRICHMENT
Production shows, classical concerts, and folkloric performances. Multi-tiered show lounge. Lectures by world affairs experts, renowned authors and destination specialists.
COMPLIMENTARY TRANSPORTATION INTO TOWN
Roundtrip transportation from the pier to the heart of town in most ports of call.
Silversea … The art of travel. The art of good living.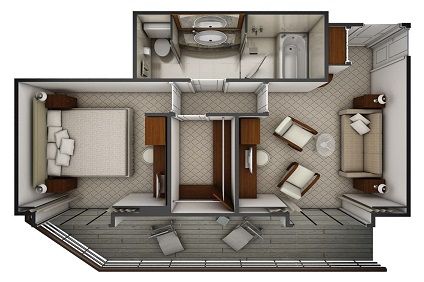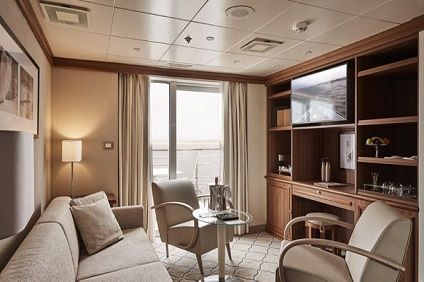 The name says it all. A stylish apartment. Prestigious and classic. For those who seek the superlative level of space, comfort and service on board. For those who expect the finest from a luxury cruise.

One bedroom: 728 ft² / 67m² including private balcony (158 ft² / 15 m²)

Features
Butler service
Refrigerator and bar setup stocked with your preferences
Pratesi® fine bed linens
BVLGARI® bath amenities, plus a choice of other European brands
A choice of pillows
Personalised stationery
Umbrella
Direct dial telephone(s)
220-volt outlets
Unlimited WiFi Internet access
Flat-screen television(s) with Interactive Media Library
Balcony with wooden parquet and patio furniture and floor-to-ceiling glass doors
Living room with sitting area
Alarm with iHome docking station
Twin beds or queen-sized bed
Marbled bathroom with full-sized bath and separate shower
Fitted wardrobe with personal safe
Vanity table with hair dryer
Writing desk
Illy® espresso machine
Afternoon canapés upon request
Dinner at officer's table
Two hours of worldwide phone use from your suite, per voyage segment
Plush Etro® bathrobe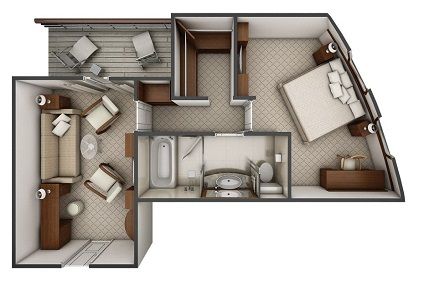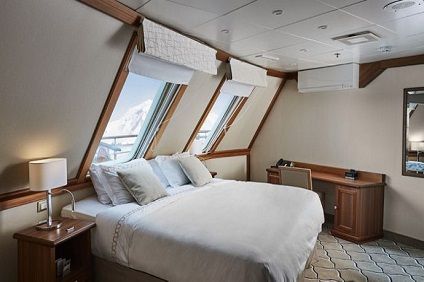 Expertly designed and exquisitely appointed. Ideal for entertaining friends while you cruise or enjoying a quiet dinner "at home".

One bedroom: 618 ft² / 57m² including a private balcony (86 ft² / 8 m²)

Features
Butler service
Refrigerator and bar setup stocked with your preferences
Pratesi® fine bed linens
BVLGARI® bath amenities, plus a choice of other European brands
A choice of pillows
Personalised stationery
Umbrella
Direct dial telephone(s)
220-volt outlets
Unlimited WiFi Internet access
Alarm with iHome docking station
Flat-screen television(s) with Interactive Media Library
Balcony with wooden parquet and patio fourniture and floor-to-ceiling glass doors
Living room with sitting area
Twin beds or queen-sized bed
Marbled bathroom with full-sized bath and separate shower
Fitted wardrobe with personal safe
Vanity table with hair dryer
Writing desk
Illy® espresso machine
Afternoon canapés upon request
Dinner at officer's table
Two hours of worldwide phone use from your suite, per voyage segment
Plush Etro® bathrobe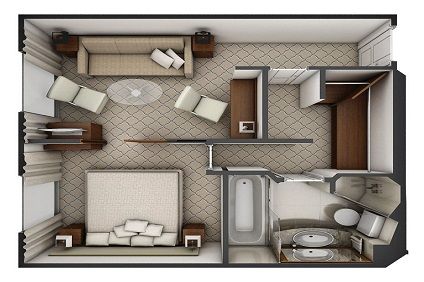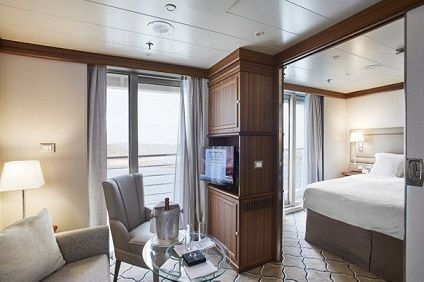 Spacious, with a welcoming sitting area, a marbled bathroom and your own private balcony.

Silver Suites can accommodate three guests.

One bedroom: 422 ft² / 39m² including 2 French balconies (30 ft² / 3 m²)

Features
Butler service
Refrigerator and bar setup stocked with your preferences
Pratesi® fine bed linens
BVLGARI® bath amenities, plus a choice of other European brands
A choice of pillows
Personalised stationery
Umbrella
Direct dial telephone(s)
220-volt outlets
Unlimited WiFi Internet access
Flat-screen television(s) with Interactive Media Library
Two French balconies with floor-to-ceiling glass doors
Living room (with convertible sofa to accommodate an additional guest)
Twin beds or queen-sized bed
Marbled bathroom with full-sized bath and separate shower
Fitted wardrobe with personal safe
Vanity table with hair dryer
Sitting area with writing desk
Afternoon canapés upon request
Dinner at officer's table
Alarm with iHome docking station
Plush Etro® bathrobe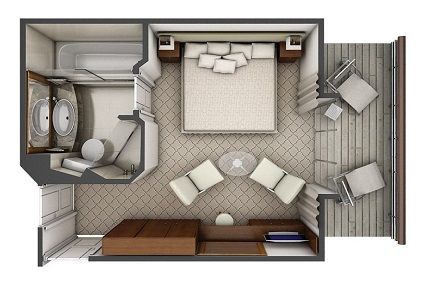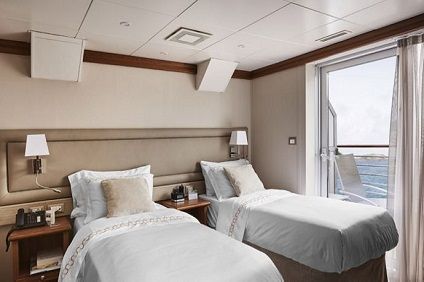 A mark of distinction. Sumptuous. Spacious. Rich textures and panoramic views surround you with distinguished luxury.
The perfect summary of The Medallion Suite offered by the world's best cruise line.

One bedroom: 400 ft² / 37m² including a private balcony (86 ft² / 8 m²)

Features
Butler service
Refrigerator and bar setup stocked with your preferences
Pratesi® fine bed linens
BVLGARI® bath amenities, plus a choice of other European brands
A choice of pillows
Personalised stationery
Umbrella
Direct dial telephone(s)
220-volt outlets
Unlimited WiFi Internet access
Flat-screen television(s) with Interactive Media Library
Balcony with wooden parquet and patio furniture and floor-to-ceiling glass doors
Twin beds or queen-sized bed
Marbled bathroom with full-sized bath and separate shower
Fitted wardrobe with personal safe
Sitting area with writing desk
Vanity table with hair dryer
Afternoon canapés upon request
Dinner at officer's table
Alarm with iHome docking station
Plush Etro® bathrobe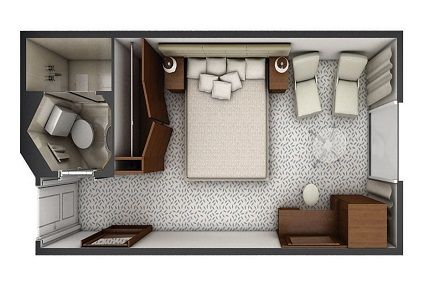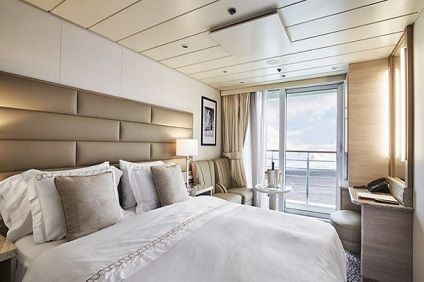 A Silversea cruise signature, complete with floor-to-ceiling glass doors that open onto a private balcony.

One bedroom: 206-216 ft² / 19-20m² including a French balcony (16 ft² / 1,5 m²)

Features
Butler service
Refrigerator and bar setup stocked with your preferences
Pratesi® fine bed linens
BVLGARI® bath amenities, plus a choice of other European brands
A choice of pillows
Personalised stationery
Umbrella
Direct dial telephone(s)
220-volt outlets
WiFi Internet access an hour per day
Flat-screen television(s) with Interactive Media Library
French balcony with floor-to-ceiling glass doors
Twin beds or queen-sized bed
Marbled bathroom with shower
Fitted wardrobe with personal safe
Sitting area with writing desk
Hair dryer
Alarm with iHome docking station
Plush Etro® bathrobe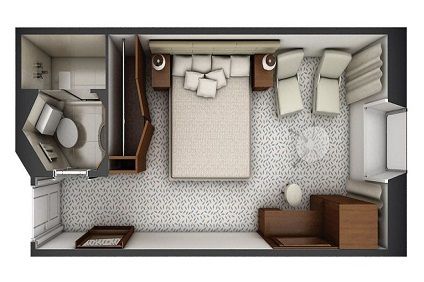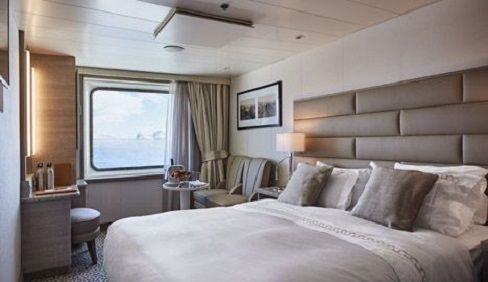 A quiet sanctuary. The suite's sitting area has plenty of room to relax while on your cruise. Large picture windows frame panoramic ocean views.
The perfect backdrop for breakfast in bed.

One bedroom: 192 ft² / 18m² with large picture window

Features
Butler service
Refrigerator and bar setup stocked with your preferences
Pratesi® fine bed linens
BVLGARI® bath amenities, plus a choice of other European brands
A choice of pillows
Personalised stationery
Umbrella
Direct dial telephone(s)
220-volt outlets
WiFi Internet access an hour per day
Flat-screen television(s) with Interactive Media Library
Large picture window providing panoramic ocean views
Twin beds or queen-sized bed
Marbled bathroom with shower
Fitted wardrobe with personal safe
Sitting area with writing desk
Hair dryer
Alarm with iHome docking station
Plush Etro® bathrobe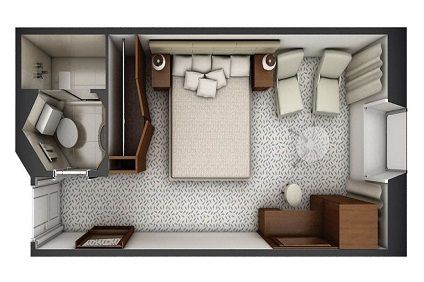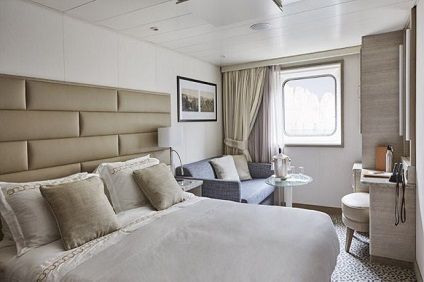 Welcoming and comfortable, the View Suite provides a relaxing haven for even the utmost adventure-seeking guests. Complete a day spent exploring onshore with an evening unwinding in the comfort of your sitting area. Capture passing ocean scenes through your view window.

Freshen up in your beautiful marbled bathroom before enjoying an elegant onboard dinner. Or cozy up under fine bed linens to watch an on-demand movie on the flat-screen television. Fall asleep easily, dreaming of the incredible experiences that await you the following day.

One bedroom: 192 ft² / 18m² with view window

Features
Butler service
Refrigerator and bar setup stocked with your preferences
Pratesi® fine bed linens
BVLGARI® bath amenities, plus a choice of other European brands
A choice of pillows
Personalised stationery
Umbrella
Direct dial telephone(s)
220-volt outlets
WiFi Internet access an hour per day
Flat-screen television(s) with Interactive Media Library
View window
Twin beds or queen-sized bed
Marbled bathroom with shower
Fitted wardrobe with personal safe
Sitting area with writing desk
Hair dryer
Alarm with iHome docking station
Plush Etro® bathrobe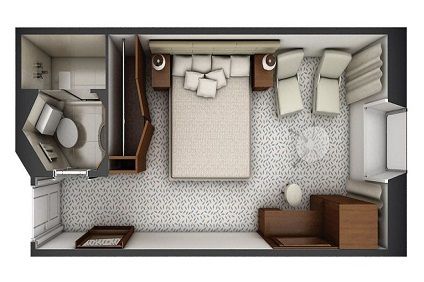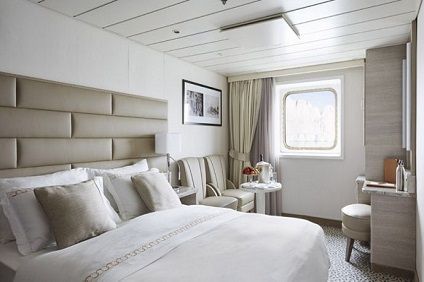 Welcoming and comfortable, the View Suite provides a relaxing haven for even the utmost adventure-seeking guests. Complete a day spent exploring onshore with an evening unwinding in the comfort of your sitting area. Capture passing ocean scenes through your view window.

Freshen up in your beautiful marbled bathroom before enjoying an elegant onboard dinner. Or cozy up under fine bed linens to watch an on-demand movie on the flat-screen television. Fall asleep easily, dreaming of the incredible experiences that await you the following day.

One bedroom: 192 ft² / 18m² with view window

Features
Butler service
Refrigerator and bar setup stocked with your preferences
Pratesi® fine bed linens
BVLGARI® bath amenities, plus a choice of other European brands
A choice of pillows
Personalised stationery
Umbrella
Direct dial telephone(s)
220-volt outlets
WiFi Internet access an hour per day
Flat-screen television(s) with Interactive Media Library
View window
Twin beds or queen-sized bed
Marbled bathroom with shower
Fitted wardrobe with personal safe
Sitting area with writing desk
Hair dryer
Alarm with iHome docking station
Plush Etro® bathrobe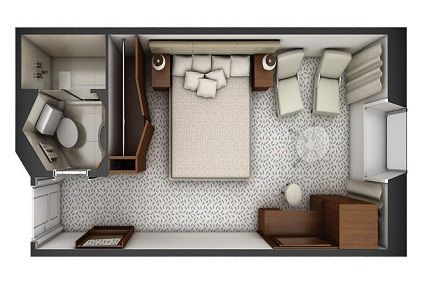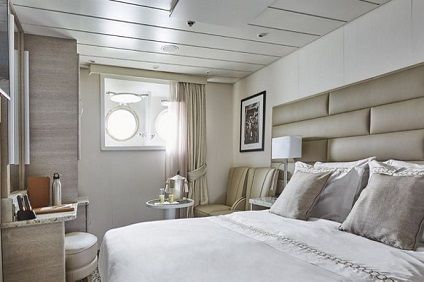 Even guests who plan to spend only sleeping hours in their stateroom will appreciate the distinctive touches of this cosy suite. After spending the day on a dynamic shore excursion, unwind in the ample sitting area or rejuvenate the mind with a soak in the marbled bathroom's tub. Here you can watch passing ocean scenes through two porthole windows. Reminisce the day's travels by journaling at your writing desk. Watch a movie on the flat-screen television. Or fall sound asleep within the comfort of fine bed linens ­– with your choice of nine pillow types.

One bedroom: 157-167 ft²/14-15 m² with 2 portholes

Features
Butler service
Refrigerator and bar setup stocked with your preferences
Pratesi® fine bed linens
BVLGARI® bath amenities, plus a choice of other European brands
A choice of pillows
Personalised stationery
Umbrella
Direct dial telephone(s)
220-volt outlets
WiFi Internet access an hour per day
Flat-screen television(s) with Interactive Media Library
Two portholes
Twin beds or queen-sized bed
Marbled bathroom with shower
Fitted wardrobe with personal safe
Sitting area with writing desk
Hair dryer
Alarm with iHome docking station
Plush Etro® bathrobe