Cruise Itinerary
| Date | Port | Arrive | Depart |
| --- | --- | --- | --- |
| 25 Dec 2021 | Sydney, NSW, Australia | | |
| 26 Dec 2021 | Sydney, NSW, Australia | | |
| 27 Dec 2021 | Hawkesbury River, New South Wales, Australia | | |
| 28 Dec 2021 | Sydney, NSW, Australia | | |
| 29 Dec 2021 | Sydney, NSW, Australia | | |
4 Night Cruise sailing from Sydney roundtrip aboard True North.

Sydney Harbour is an epicentre of excitement during the festive season and being outrageously spoilt on-board the True North is the penultimate option to experience all! After spending the 'big day' with family and friends – it's time for some more intimate indulging! Slip away for a sumptuous Christmas dinner on one of the most beautiful harbours in the world! Then take the 'best seat in the harbour' for the start of the Sydney to Hobart Yacht Race – one of Australia's most spectacular sporting events! And then spend the next 3 days soaking-up the tranquillity of the Hawkesbury – wilderness on the doorstep of Australia's largest city! No need to call a taxi – you don't even need a reservation for dinner! A truly very different way to experience Sydney!

NOTE: This itinerary is provided as example only – prevailing conditions and local arrangements may cause variation.

Night One
Welcome aboard the TRUE NORTH in magnificent Sydney Harbour. Christmas dinner will be served as the TRUE NORTH reveals one of the finest harbours in the world!

Day One
Start the day with something special – a visit to the Cruising Yacht Club of Australia on starting day! See and experience the pre-race tension as the contenders prepare for one the world's most famous yacht races! Enjoy a champagne breakfast on the bow and watch the start of the Sydney to Hobart from one of the most enviable platforms in the harbour. Then visit famed Taronga Zoo or the ubiquitous Opera House before we enjoy a leisurely afternoon wander 'past the heads' and along Sydney's revered northern beaches to picturesque Pittwater – more opportunity to dine in style!

Day Two
Enjoy breakfast in the beautiful surrounds of Pittwater. Morning activities will include a walk to the Barrenjoey Lighthouse, perhaps a little beachcombing and, a scenic voyage past the Pittwater yacht clubs before the TRUE NORTH enters the tranquil waters of the Hawkesbury River. There may also be a chance to walk from Longnose Point to Flint and Steel Bay through the Ku-ring-gai Chase National Park – Australia's second oldest national park.

A helicopter flight to the Hunter Valley and a wine tasting at our feature winery is sure to be a highlight!

Day Three
Wake up to the shrill of the Jerusalem Bay cicadas and then join our local guide as we explore beautiful Cowen Creek. Stand in the very spot the Constitution of Australia was written and see the rock art of those who came before! Enjoy a refreshing swim at one of the Creek's many sheltered beaches and rinse-off under a waterfall!
Whilst you are enjoying lunch, the TRUE NORTH will make its way to Middle Harbour before slipping through the narrow channel at Split Bridge and into delightful Bantry Bay. As the sun starts to set over mangrove lined waters, join an infamous TRUE NORTH 'raft-up' and then it's back on-board for another highlight – dance the night away with our live band!

Day Four
The TRUE NORTH will return to Sydney Harbour for an early morning disembarkation.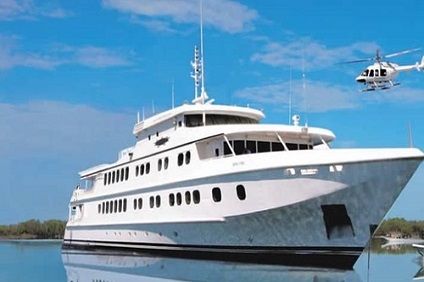 The TRUE NORTH allows discerning adventurers to experience wilderness in surroundings more akin to one of the world's most exclusive hotels! Guests are able to take advantage of a number of lavish vantage points including a sundeck, a forward observation lounge, a ship's lounge and an alfresco bar. The ship's naturalist presents interpretative information on plasma screens and, an internet café enables convenient communication with the outside world.

A popular venue on any True North cruise, the lower deck dining room offers the ultimate in comfort and uninterrupted vista – large panoramic windows ensure that guests never miss any of the action, even when they are enjoying the 'finest in fine dining'. All cabins feature stylish décor, en-suite facilities, in-house entertainment and satellite telephones. The Explorer Class staterooms and the River Class cabins offer king size beds that can be converted to singles and the Ocean Class twins feature roomy single beds.

Multiple adventure boats provide guests with greater opportunity to do "what they want, when they want" and, to add yet another dimension to adventure, most cruise options feature an onboard helicopter!The purpose built TRUE NORTH is able to explore the upper reaches of shallow river systems – guests need only step out of their cabins to experience wilderness and, the latest in computer controlled motion stabilizers ensures a comfortable ride.
Ship Profile & Stats
Maiden voyage: 2005
Tonnage: 740 tonnes
Length: 50 metres
Draft: 2.2 metres
Speed: 14 knots
Ship registration: Australian
Passenger capacity (dbl): 36
Crew nationality: Australian
Officer nationality: Australian
Dining nationality: Australian
Ship Amenities
All cabins have private ensuited facilities
Air Conditioning
In cabin entertainment and satellite telephone
240 V and 110 V (normal Australian plugs)
Ship Facilities
Most cruise options feature an onboard 5 seater helicopter (Eurocopter Squirrel)
Forward Observation Lounge
Ships Lounge and Alfresco Bar
Sports Deck
Lower Deck Dining Room
Fully equipped gourmet galley
6 x fully surveyed expedition boats
Internet Cafe
WHY YOU SHOULD CRUISE WITH TRUE NORTH ADVENTURE CRUISES
True North Adventure Cruises is the winner of numerous awards for excellence.
True North Adventure Cruises is an undisputed market leader and offers activity based itineraries especially designed for the most discerning adventurer.
True North Adventure Cruises consistently operates with impeccable customer satisfaction rates.
True North Adventure Cruises pioneered luxury adventure-cruising along the Kimberley coast 30 years previous. Others cannot equal our experience and knowledge!
Explore the magnificent Kimberley coast on either a 7 night, 10 night or 13 night voyage of discovery.
The TRUE NORTH is an Australian registered ship and is not required to exit territorial waters during Australian voyages – every day on-board the TRUE NORTH is an activity day!
The TRUE NORTH is the ONLY adventure-cruise ship in the southern hemisphere that travels with an on-board helicopter – an air conditioned Eurocopter.
The TRUE NORTH features enhanced levels of comfort throughout – allowing guests opportunity to experience wilderness in surroundings more akin to one of the world's most exclusive hotels.
The TRUE NORTH features several lavish vantage points including a sundeck, an observation lounge, a ship's lounge, an alfresco bar and a sports deck.
All cabins feature en-suites, in-cabin entertainment and private satellite telephones.
An internet café enables guests to maintain contact with the corporate world.
The TRUE NORTH is purpose built for accessing shallow coastal environs and river systems – bigger ships cannot go where we go!
The TRUE NORTH features computer controlled motion stabilizers.
The TRUE NORTH is fully licensed for fishing activities.
The TRUE NORTH is revered for its on-board dining.
Legendary and authentic service – the TRUE NORTH welcomes just 36 guests and, an AUSTRALIAN crew uniquely chaperones your every experience ensuring our renowned reputation for attention to detail.
Avoid the crowds – we carry 6 dedicated adventure boats (not rubber boats) that provide guests with opportunity to experience wilderness in comfort and, in small groups. We can also make greater provision for guests to do 'what they want, when they want'!
Experience the destination – our cruises are activity-based and extended periods at sea are specifically avoided. Daily activities include scenic walks, helicopter flights, culture, fishing, snorkelling, picnics, diving, exploring, nature and much, much more!
A ship's naturalist presents entertaining interpretative sessions.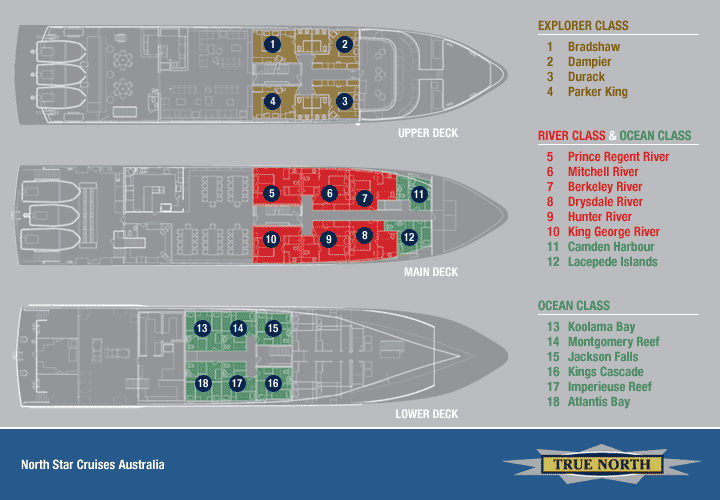 Features:
~Approximate dimensions 3m X 4m (Ensuite 2m X 1.75m)
~King size bed (can be split into singles if requested)
~2 large viewing windows in the main cabin area
~Private spacious ensuite featuring double basin and windows
~Original Windram artwork in the cabin
~Plenty of drawer and closest space to store clothing and other personal items
~Mini Fridge
~Writing desk and chair
~In house entertainment featuring a large plasma TV & DVD player
~Personal air conditioning unit
~Satellite phone
Features:
~Approximate dimensions 3.5m x 3.5m (Ensuite 2m x 1.75m)
~King size bed (can be split into singles if requested)
~Private spacious ensuite featuring windows
~2 Large viewing windows in the main cabin area
~Plenty of drawer and closet space to store clothing and other personal items
~In house entertainment featuring a plasma TV & DVD player
~Personal air conditioning unit
~Satellite phone
Features:
~Approximate dimensions 2.5m to 3m x 3m (Ensuite 1.5m x 1.75m)
~Twin single beds
~Private Ensuite with spacious shower
~2 oval port holes allowing plenty of natural light into the cabin
~Drawers and closet space to store clothing and other personal items
~In house entertainment featuring a plasma TV & DVD player
~Personal air conditioning unit
~Satellite phone