Cruise Itinerary
| Date | Port | Arrive | Depart |
| --- | --- | --- | --- |
| 12 Jun 2023 | Sydney, NSW, Australia | | 4:00 PM |
| 13 Jun 2023 | At Sea | | |
| 14 Jun 2023 | At Sea | | |
| 15 Jun 2023 | Airlie Beach, Qld, Australia | 7:00 AM | 4:00 PM |
| 16 Jun 2023 | Cairns, Qld, Australia | 9:00 AM | |
| 17 Jun 2023 | Cairns, Qld, Australia | | 5:00 PM |
| 18 Jun 2023 | Willis Island, Coral Sea | 9:00 AM | 10:00 AM |
| 19 Jun 2023 | At Sea | | |
| 20 Jun 2023 | Moreton Island, Queensland, Australia | 8:00 AM | 8:30 PM |
| 21 Jun 2023 | At Sea | | |
| 22 Jun 2023 | Sydney, NSW, Australia | 6:30 AM | |
10 Night Cruise sailing from Sydney roundtrip aboard Pacific Adventure.

We dedicate this itinerary to our incredible Great Barrier Reef – one of the seven wonders of the natural world.

With three ports from which you can explore the pristine reef, coral cays and tropical islands, take the opportunity to fall in love with Australia all over again.

Highlights of this cruise:

Sydney
Sydney is home to two of the world's most famous landmarks – the Sydney Harbour Bridge and the Sydney Opera House, both perfectly situated on the magnificent harbour.

Airlie Beach
If you ache to snorkel, dive, swim, paddle or just laze on a breathtaking white sand beach, this is the place to do it.

Cairns
Cairns is surrounded by a natural wonderland – the glorious Coral Sea on one side and lush rainforest hinterland on the other.

Moreton Island
Standing proud as one of the world's largest sand islands, Moreton Island is one of mother nature's greatest achievements and remains today much the same as thousands of years ago.
We are thrilled that Pacific Adventure will arrive with a range of new restaurants, bars and other exciting features, including Byron Beach Club, and a dedicated family pool area with loads of family-oriented activities, with an all-weather retractable roof. Get ready to challenge your family, friends and new-found friends on Pacific Adventures Twin Racer Waterslides!

You will soon discover that Pacific Adventure has most of P&O's favourite signature features and a whole lot more!

Foodies rejoice! We're raising celebrity chef dining to a whole new level with Luke's Bar & Grill by Luke Mangan and 400 Gradi by award-winning Melbourne chef, Johnny di Francesco. On the other hand, if you're up for a day/night poolside, order takeaway pizza from Gradi Pronto or try Luke's Burger Bar by Luke Mangan.

Head to the Lobby, located on deck 5. It is the perfect place to sit and watch the (ship's) world go by. Choose from three fabulous bars for your favourite drink, a snack, a quick lunch or a cheese platter. We're sure the Lobby will become your favourite new hangout place. If you're in the mood for something more lively, head to Altitude, our nightclub on Deck 18.

Dine at the Waterfront, Dragon Lady and Angelo's Restaurants as well as casual dining in our food court, The Pantry. Grab a drink and relax at The Oasis, enjoy a cocktail at Ocean Bar or head to the Blue Room for some live entertainment.

Families will love the dedicated, indoor-outdoor family space, open 365 days a year. There's a pool, family games, family parties and more. Hungry? Order a pizza from Gradi Pronto on the Big Red Phone! Or, head to Luke's Burger Bar for mouth-watering burgers, curated by the celebrity chef himself. The young and young at heart can race against the clock on our Twin Racer Waterslides!
Ship Profile & Stats
Maiden voyage: October 2020
Tonnage: 108,865 tonnes
Length: 290 metres
Ship registration: United Kingdom
Passenger capacity (dbl): 3110
Crew nationality: International
Officer nationality: British
Dining nationality: International
Ship Amenities
Flat screen television
Hair Dryer
240 volt Australian Power Point
Air conditioning with personal controls
Radio/Stereo
Safety Deposit box
Telephone
Ship Facilities
Teen Lounge Top Deck
Fitness Centre
Sauna & Steam Room
Byron Beach Swimming Pool
Elemis Spa
Teen Lounge
Youth Centre
Tradewinds
The Conservatory
The Big Screen
The Skywalker
Sports Court
Jacuzzi's
The Oasis
Oasis Bar
Crystal Dome
Waterfront Restaurant
Blue Room
Byron Beach Club
Teen Hot Tub & Splash Pool
The Pantry
Outriggers Bar
Calypso Reef & Pool
Naptune's Reef & Pool
Prego Pizzeria
The Mermaid's Tail Bar
Triden t Grill
Self Service Launderette
Terrace Pool
Marquee Theatre
Casino
Shopping Boutiques
Photo Gallery
400 Gradi
Black Circus
Salt Grill
Prosecco Bar
The Piazza
Library
Internet Cafe
Medical Centre
P&O invented cruising in the mid-1800s and it has been synonymous with the industry ever since, sailing its famous white ships across the seven seas. P&O's first cruise in this region took place from Australia at Christmas 1932 when Strathaird sailed for Norfolk Island with a full and expectant complement of passengers.
Did you realise that on any P&O Cruises holiday your fare includes accommodation, all main meals, entertainment and activities, not to mention a new horizon every day? The fact is, when you cruise with P & O, you're getting the best holiday value money can buy. Compare the inclusions on offer and try to imagine a land-based holiday that can match such incredible value!
Today, P&O continues the tradition providing Australian and New Zealanders with quality, value-for-money itineraries.
Onboard there is always something to do. From lavish cabaret performances to live bands, and sporting activities to crafts and bingo. You can do it all, or you can do nothing at all.
All shipboard activities and entertainment are under the supervision of experienced Cruise Staff, made up of the Cruise Director and Assistant, Social Directors, Sports and Entertainment Staff, Shore Tour Manager and Childcare Co-ordinators.
They will help you make new friends, arrange all shipboard functions and give information on the ports of call.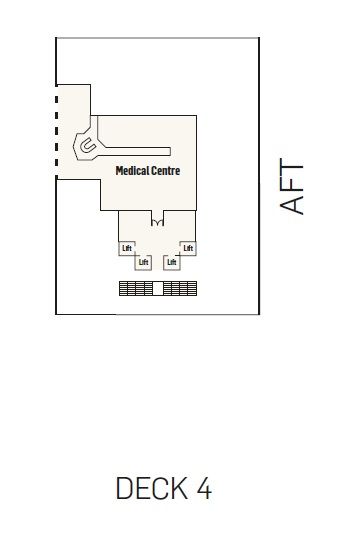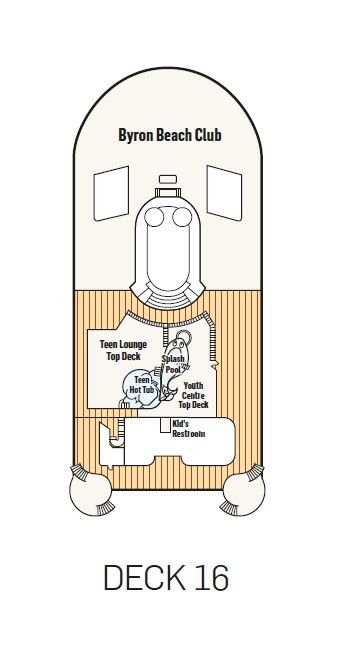 Access to Byron Beach Club.
Access to Byron Beach Club.
Access to Byron Beach Club.
Access to Byron Beach Club.
Access to Byron Beach Club.
Access to Byron Beach Club.
Access to Byron Beach Club.
5 Berths with window, no balcony
Access to Byron Beach Club.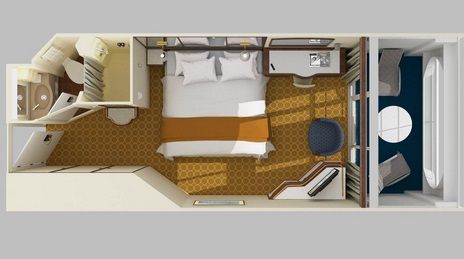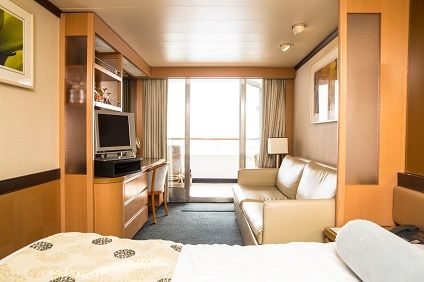 Interconnecting Rooms: The perfect combination of proximity and privacy. Enjoy neighbouring rooms with internal doors, perfect for families, groups and friends. Balcony Stateroom: Fling your doors wide open and breathe in the crisp ocean air. With all the comforts of a hotel - but on the sea - you'll feel completely relaxed lounging on your private balcony, feet up, enjoying a view few will see. Order in some cocktails or curl up with a book for ultimate vacation vibes. DISCLAIMER: Room images are for illustration purposes only. Actual room layout and design may vary. Private balcony with outdoor furniture Private ensuite, shower only Flat screen TV Wardrobe, desk with chair Telephone Safety deposit box Air-conditioning with personal controls Fridge (not available on Pacific Aria)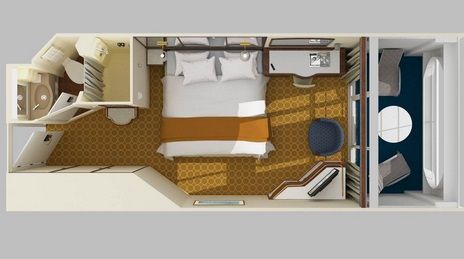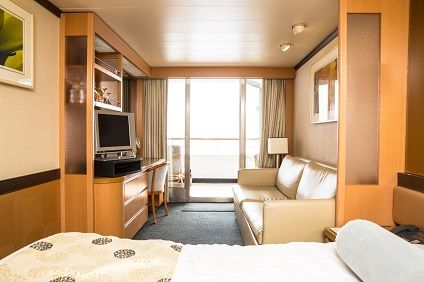 Fling your doors wide open and breathe in the crisp ocean air. With all the comforts of a hotel - but on the sea - you'll feel completely relaxed lounging on your private balcony, feet up, enjoying a view few will see. Order in some cocktails or curl up with a book for ultimate vacation vibes. DISCLAIMER: Room images are for illustration purposes only. Actual room layout and design may vary. Private balcony with outdoor furniture Private ensuite, shower only Flat screen TV Wardrobe, desk with chair Telephone Safety deposit box Air-conditioning with personal controls Fridge (not available on Pacific Aria)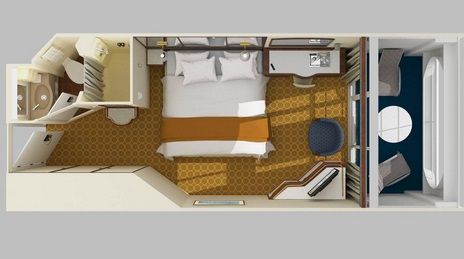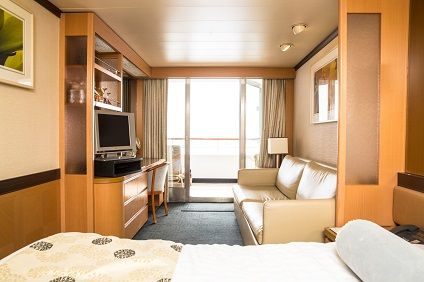 Fling your doors wide open and breathe in the crisp ocean air. With all the comforts of a hotel - but on the sea - you'll feel completely relaxed lounging on your private balcony, feet up, enjoying a view few will see. Order in some cocktails or curl up with a book for ultimate vacation vibes. DISCLAIMER: Room images are for illustration purposes only. Actual room layout and design may vary. Private balcony with outdoor furniture Private ensuite, shower only Flat screen TV Wardrobe, desk with chair Telephone Safety deposit box Air-conditioning with personal controls Fridge (not available on Pacific Aria)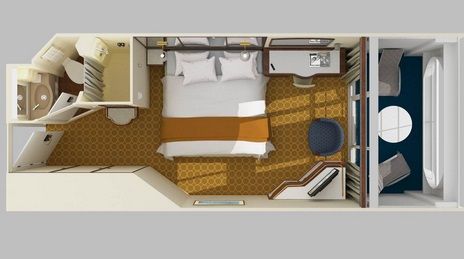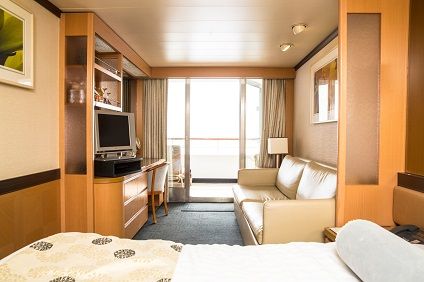 Fling your doors wide open and breathe in the crisp ocean air. With all the comforts of a hotel - but on the sea - you'll feel completely relaxed lounging on your private balcony, feet up, enjoying a view few will see. Order in some cocktails or curl up with a book for ultimate vacation vibes. DISCLAIMER: Room images are for illustration purposes only. Actual room layout and design may vary. Private balcony with outdoor furniture Private ensuite, shower only Flat screen TV Wardrobe, desk with chair Telephone Safety deposit box Air-conditioning with personal controls Fridge (not available on Pacific Aria)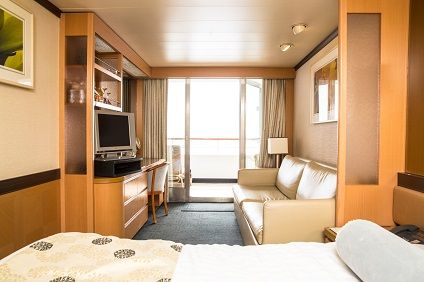 Fling your doors wide open and breathe in the crisp ocean air. With all the comforts of a hotel - but on the sea - you'll feel completely relaxed lounging on your private balcony, feet up, enjoying a view few will see. Order in some cocktails or curl up with a book for ultimate vacation vibes. DISCLAIMER: Room images are for illustration purposes only. Actual room layout and design may vary. Private balcony with outdoor furniture Private ensuite, shower only Flat screen TV Wardrobe, desk with chair Telephone Safety deposit box Air-conditioning with personal controls Fridge (not available on Pacific Aria)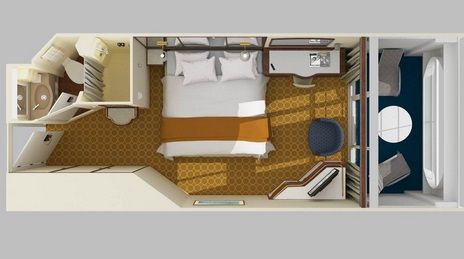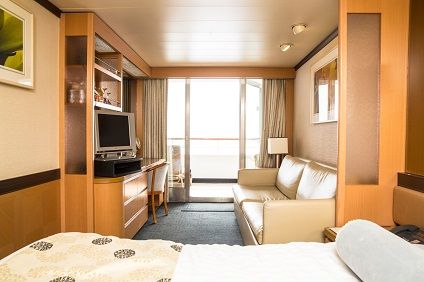 Fling your doors wide open and breathe in the crisp ocean air. With all the comforts of a hotel - but on the sea - you'll feel completely relaxed lounging on your private balcony, feet up, enjoying a view few will see. Order in some cocktails or curl up with a book for ultimate vacation vibes. DISCLAIMER: Room images are for illustration purposes only. Actual room layout and design may vary. Private balcony with outdoor furniture Private ensuite, shower only Flat screen TV Wardrobe, desk with chair Telephone Safety deposit box Air-conditioning with personal controls Fridge (not available on Pacific Aria)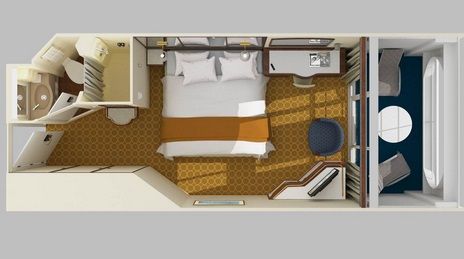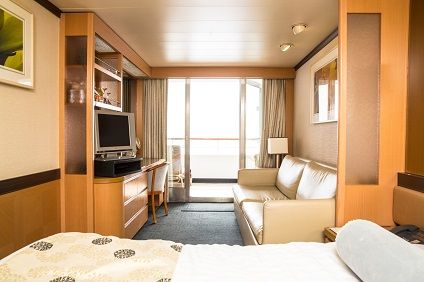 Fling your doors wide open and breathe in the crisp ocean air. With all the comforts of a hotel - but on the sea - you'll feel completely relaxed lounging on your private balcony, feet up, enjoying a view few will see. Order in some cocktails or curl up with a book for ultimate vacation vibes. DISCLAIMER: Room images are for illustration purposes only. Actual room layout and design may vary. Private balcony with outdoor furniture Private ensuite, shower only Flat screen TV Wardrobe, desk with chair Telephone Safety deposit box Air-conditioning with personal controls Fridge (not available on Pacific Aria)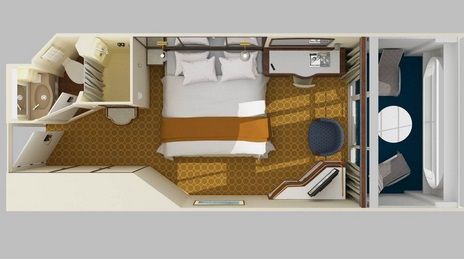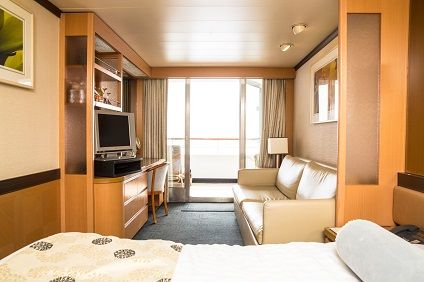 Fling your doors wide open and breathe in the crisp ocean air. With all the comforts of a hotel - but on the sea - you'll feel completely relaxed lounging on your private balcony, feet up, enjoying a view few will see. Order in some cocktails or curl up with a book for ultimate vacation vibes. DISCLAIMER: Room images are for illustration purposes only. Actual room layout and design may vary.
Private balcony with outdoor furniture

Private ensuite, shower only

Flat screen TV

Wardrobe, desk with chair

Telephone

Safety deposit box

Air-conditioning with personal controls

Fridge (not available on Pacific Aria)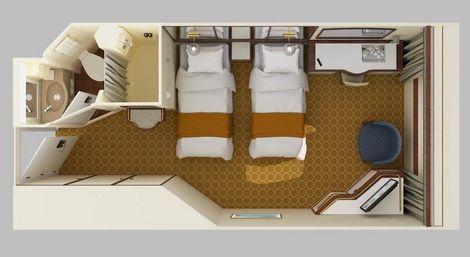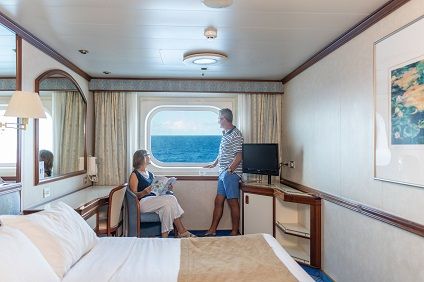 Interconnecting Rooms: The perfect combination of proximity and privacy. Enjoy neighbouring rooms with internal doors, perfect for families, groups and friends. Oceanview Stateroom: Wake up to million dollar water views, all to yourself. Our Oceanview rooms feature a window or porthole, so you can let beautiful natural light stream in while enjoying breakfast in bed. Equipped with everything you need, Oceanview rooms are available in a range of bedding combinations and can be interconnecting - perfect for families or groups of friends. DISCLAIMER: Room images are for illustration purposes only. Actual room layout and design may vary. Flat screen TV Wardrobe, desk with chair Fridge (excluding Pacific Aria) Private ensuite, shower only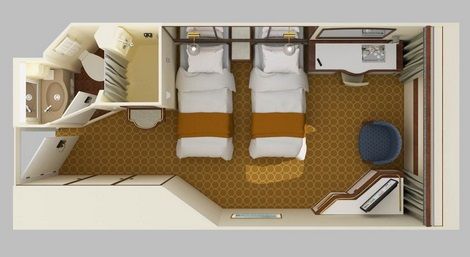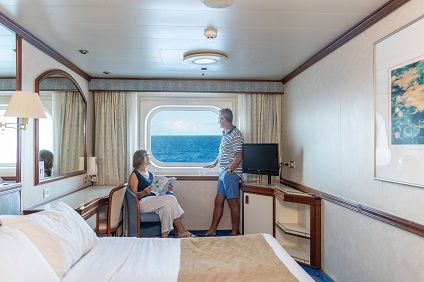 Wake up to million dollar water views, all to yourself. Our Oceanview rooms feature a window or porthole, so you can let beautiful natural light stream in while enjoying breakfast in bed. Equipped with everything you need, Oceanview rooms are available in a range of bedding combinations and can be interconnecting - perfect for families or groups of friends. DISCLAIMER: Room images are for illustration purposes only. Actual room layout and design may vary. Flat screen TV Wardrobe, desk with chair Fridge (excluding Pacific Aria) Private ensuite, shower only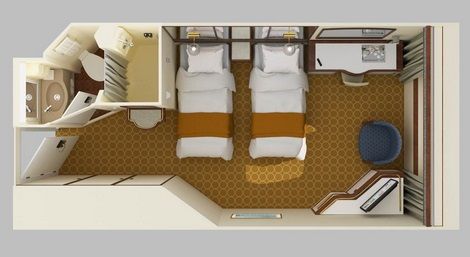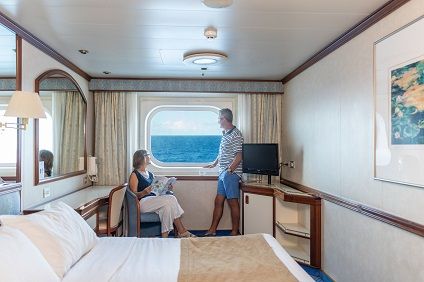 Wake up to million dollar water views, all to yourself. Our Oceanview rooms feature a window or porthole, so you can let beautiful natural light stream in while enjoying breakfast in bed. Equipped with everything you need, Oceanview rooms are available in a range of bedding combinations and can be interconnecting - perfect for families or groups of friends. DISCLAIMER: Room images are for illustration purposes only. Actual room layout and design may vary. Flat screen TV Wardrobe, desk with chair Fridge (excluding Pacific Aria) Private ensuite, shower only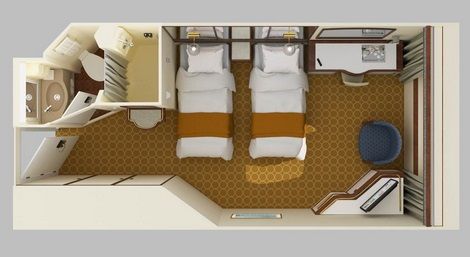 Wake up to million dollar water views, all to yourself. Our Oceanview rooms feature a window or porthole, so you can let beautiful natural light stream in while enjoying breakfast in bed. Equipped with everything you need, Oceanview rooms are available in a range of bedding combinations and can be interconnecting - perfect for families or groups of friends. DISCLAIMER: Room images are for illustration purposes only. Actual room layout and design may vary. Flat screen TV Wardrobe, desk with chair Fridge (excluding Pacific Aria) Private ensuite, shower only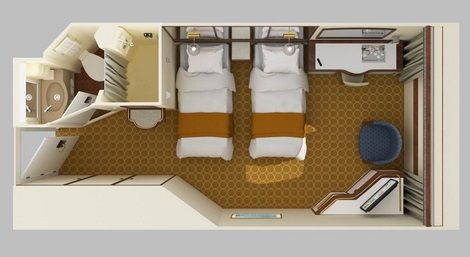 Wake up to million dollar water views, all to yourself. Our Oceanview rooms feature a window or porthole, so you can let beautiful natural light stream in while enjoying breakfast in bed. Equipped with everything you need, Oceanview rooms are available in a range of bedding combinations and can be interconnecting - perfect for families or groups of friends. DISCLAIMER: Room images are for illustration purposes only. Actual room layout and design may vary. Flat screen TV Wardrobe, desk with chair Fridge (excluding Pacific Aria) Private ensuite, shower only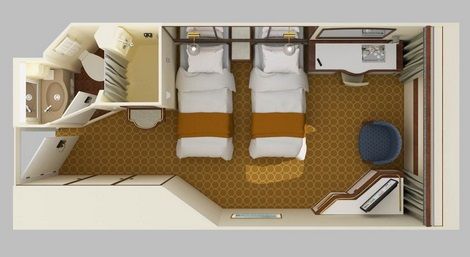 Wake up to million dollar water views, all to yourself. Our Oceanview rooms feature a window or porthole, so you can let beautiful natural light stream in while enjoying breakfast in bed. Equipped with everything you need, Oceanview rooms are available in a range of bedding combinations and can be interconnecting - perfect for families or groups of friends. DISCLAIMER: Room images are for illustration purposes only. Actual room layout and design may vary. Flat screen TV Wardrobe, desk with chair Fridge (excluding Pacific Aria) Private ensuite, shower only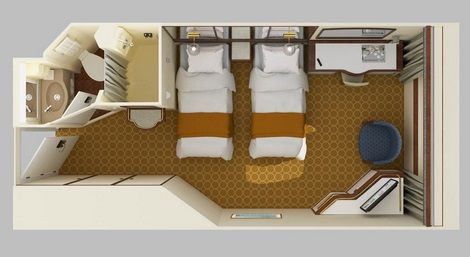 Wake up to million dollar water views, all to yourself. Our Oceanview rooms feature a window or porthole, so you can let beautiful natural light stream in while enjoying breakfast in bed. Equipped with everything you need, Oceanview rooms are available in a range of bedding combinations and can be interconnecting - perfect for families or groups of friends. DISCLAIMER: Room images are for illustration purposes only. Actual room layout and design may vary.
Flat screen TV

Wardrobe, desk with chair

Fridge (excluding Pacific Aria)

Private ensuite, shower only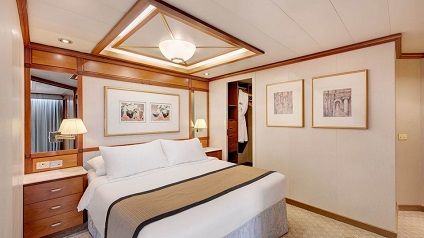 Interconnecting Rooms: The perfect combination of proximity and privacy. Enjoy neighbouring rooms with internal doors, perfect for families, groups and friends. Interior Stateroom: Wake up with your loved ones! Available in a range of bedding combinations including twin, double, triple and quad share, our Interior rooms are perfect for both families and couples. With comfortable furnishings and soft beds, you'll love having a cosy place to return to after a day of cruisey fun. DISCLAIMER: Room images are for illustration purposes only. Actual room layout and design may vary. Private ensuite, shower only Flat screen TV Telephone Wardrobe, desk with chair Safety deposit box Air-conditioning with personal controls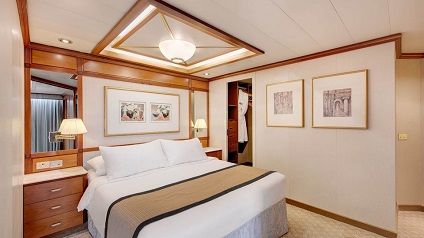 Wake up with your loved ones! Available in a range of bedding combinations including twin, double, triple and quad share, our Interior rooms are perfect for both families and couples. With comfortable furnishings and soft beds, you'll love having a cosy place to return to after a day of cruisey fun. DISCLAIMER: Room images are for illustration purposes only. Actual room layout and design may vary. Private ensuite, shower only Flat screen TV Telephone Wardrobe, desk with chair Safety deposit box Air-conditioning with personal controls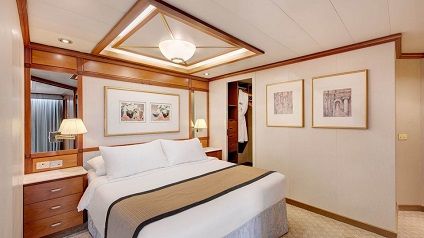 Wake up with your loved ones! Available in a range of bedding combinations including twin, double, triple and quad share, our Interior rooms are perfect for both families and couples. With comfortable furnishings and soft beds, you'll love having a cosy place to return to after a day of cruisey fun. DISCLAIMER: Room images are for illustration purposes only. Actual room layout and design may vary. Private ensuite, shower only Flat screen TV Telephone Wardrobe, desk with chair Safety deposit box Air-conditioning with personal controls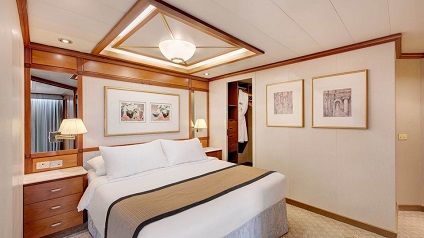 Wake up with your loved ones! Available in a range of bedding combinations including twin, double, triple and quad share, our Interior rooms are perfect for both families and couples. With comfortable furnishings and soft beds, you'll love having a cosy place to return to after a day of cruisey fun. DISCLAIMER: Room images are for illustration purposes only. Actual room layout and design may vary. Private ensuite, shower only Flat screen TV Telephone Wardrobe, desk with chair Safety deposit box Air-conditioning with personal controls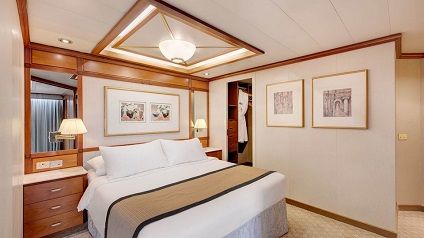 Wake up with your loved ones! Available in a range of bedding combinations including twin, double, triple and quad share, our Interior rooms are perfect for both families and couples. With comfortable furnishings and soft beds, you'll love having a cosy place to return to after a day of cruisey fun. DISCLAIMER: Room images are for illustration purposes only. Actual room layout and design may vary. Private ensuite, shower only Flat screen TV Telephone Wardrobe, desk with chair Safety deposit box Air-conditioning with personal controls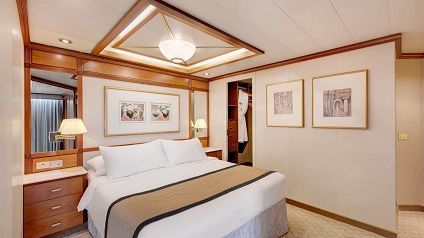 Wake up with your loved ones! Available in a range of bedding combinations including twin, double, triple and quad share, our Interior rooms are perfect for both families and couples. With comfortable furnishings and soft beds, you'll love having a cosy place to return to after a day of cruisey fun. DISCLAIMER: Room images are for illustration purposes only. Actual room layout and design may vary. Private ensuite, shower only Flat screen TV Telephone Wardrobe, desk with chair Safety deposit box Air-conditioning with personal controls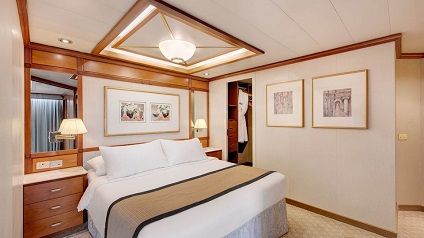 Wake up with your loved ones! Available in a range of bedding combinations including twin, double, triple and quad share, our Interior rooms are perfect for both families and couples. With comfortable furnishings and soft beds, you'll love having a cosy place to return to after a day of cruisey fun.

DISCLAIMER: Room images are for illustration purposes only. Actual room layout and design may vary.


Private ensuite, shower only
Flat screen TV
Telephone
Wardrobe, desk with chair

Safety deposit box
Air-conditioning with personal controls