Cruise Itinerary
| Date | Port | Arrive | Depart |
| --- | --- | --- | --- |
| 30 Dec 2021 | Mannum, South Australia | | |
| 31 Dec 2021 | At Sea | | |
| 1 Jan 2022 | At Sea | | |
| 2 Jan 2022 | At Sea | | |
| 3 Jan 2022 | Mannum, South Australia | | |
4 Night Cruise sailing from Mannum roundtrip aboard Murray Princess.

As the Admiral says, "Always start the way you plan to finish". What better way to bring in the new year than aboard the PS Murray Princess.

Celebrate a unique Australian New Year's Eve on the mighty Murray River. As the sun sets on another year, we celebrate with a spectacular New Year's Eve Dinner aboard Murray Princess.

Detailed Itinerary:

THURSDAY 30th DECEMBER 2021
Mid-afternoon the PS Murray Princess departs historic Mannum, birthplace of the Murray River trade and communication, and heads upriver while you enjoy a Welcome Dinner.

As we cruise under floodlight to our overnight mooring at Caurnamont you may see nocturnal wildlife on the riverbank. Watch for kangaroos, hairy-nosed wombats, tortoises, egrets, and many other species.

This evening enjoy the evening entertainment of 'Murder on the Murray Princess'.

FRIDAY 31st DECEMBER 2021 (NEW YEAR'S EVE)
Enjoy a leisurely morning and listen to the First Officer talk about the history of paddle steamers and pioneers or join in on some light exercises on the sun deck.

After lunch, we continue cruising upriver to Blanchetown through one of 13 locks which maintain the flow and levels of water.

This afternoon we moor opposite to the township of Blanchetown for our overnight anchorage. As the last rays of the sun fade, we visit Burk Salter Boutique Winery and enjoy wine tasting at the cellar door which is fitted out with beautiful red gum bars.

Tonight, we celebrate the year of 2021 and welcome in 2022 with a spectacular New Year's Eve Dinner and celebrations.

SATURDAY 1st JANUARY 2022 (NEW YEAR'S DAY)
It's a new year and time for the keen photographers to be out to capture the special light and the morning movement of wildlife as we cruise downriver to picturesque region of Big Bend and Sunnydale. Along the way, participate in a game of bingo or catch up with friends over a tea or coffee whilst enjoying the magnificent scenery slide by.

Mid-afternoon we arrive at Sunnydale, and it's all ashore for the Woolshed Show as we recreate typical Australian woolshed history. Later we visit the Native Wildlife Shelter where some of South Australia's most interesting native animals are cared for. And then of course, there is the great Aussie Barbecue – cooked and served in a bush setting on the banks of the mighty Murray River.

An optional Nocturnal Tour (additional cost) in a comfortable purpose-built cart is available after dinner where you may see kangaroos, wombats, foxes, bats, and owls by powerful spotlights. Special stops along the way are included to view the spectacular night sky which is part of the River Murray International Dark Sky Reserve.

SUNDAY 2nd JANUARY 2022
After an optional Bush Tucker Breakfast (additional cost), we slowly cruise downriver past magnificent cliffs scoured by the river over millions of years. We reach Ngaut Ngaut Aboriginal Reserve, one of Australia's most significant archaeological sites, for a step back in time – tens of thousands of years – for a guided boardwalk tour to view ancient rock carvings and to learn about aboriginal history in the area.

We return to the vessel for lunch and continue cruising downriver to Lake Carlet. Along the way, adventure seekers can also take a scenic tender boat ride or participate in a trivia challenge.

Tonight, join your fellow passengers for a delicious final night dinner and enjoy the evening entertainment.

MONDAY 3rd JANUARY 2022 We leave Lake Carlet and head back to Mannum. After breakfast we reluctantly say farewell as we arrive at the Mannum Wharf.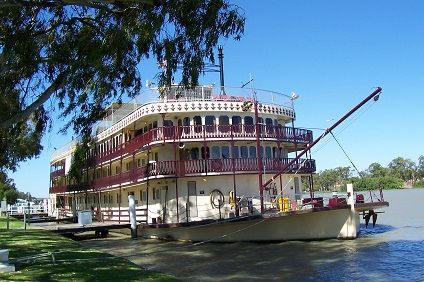 PS Murray Princess is purpose built for the Murray River. She is faithfully designed as a modern romantic representative of a time when hundreds of such vessels plied the river. Unlike most modern-day river vessels with imitation paddles, Murray Princess is propelled by an authentic, massive stern paddlewheel.

There's no better way to see the Murray River and a slice of the hauntingly beautiful and dramatic Australian outback, its unique flora and fauna, and the rich legacy of old riverside ports and indigenous culture close up than to drift unhurried and quietly under the power of the paddle-wheeler.

Accommodating just 120 passengers, Murray Princess brings the unique advantages of small ship cruising to the Murray River. The Captain and crew know the river intimately and are delighted to share with you their knowledge and stories. The lounges and dining saloon are spacious with a character and charm of yesteryear. Grand in name, yet relaxed and informal by nature, Murray Princess fosters a warmth and friendliness unique to the river.
Ship Profile & Stats
Tonnage: 1,500 tonnes
Length: 67 metres
Beam: 15 metres
Draft: 1.2 metres
Speed: 6 knots
Ship registration: Australia
Passenger capacity (dbl): 129
Crew nationality: Australian
Officer nationality: Australian
Dining nationality: Australian
Ship Amenities
Individually Controlled Airconditioning
Electric Blankets
Private Bathroom Ensuite
Ship Facilities
Gift shop
Guest laundry
Four outside disabled cabins and lift
Speed boat
Sun Deck
Two spas
Two bars
Single sitting dining
Library & Video
24 hour tea & coffee facilities
Two saunas
Two lounges
From the Great Barrier Reef to the bays and beaches of Sydney Harbour to the outback vastness of the Murray River basin, Captain Cook Cruises draws on over 39 years of cruising knowledge to create unique and exciting travel experiences.
Small ship cruising takes you far from the beaten track and close up to places no other kind of cruising can reach. Our ship's small size means it can negotiate narrow waterways, shallow bays and quiet rivers where bigger ships cannot go.
Unlike big ships and large scale international ports, a small ship allows you to experience places where the nature, history and culture remain fresh, where the flood of tourists has not overrun them and will not overrun you. Places where you will meet and interact with the locals and discover how the waterway plays a vital role in their normal day to day lives.
Of course you still enjoy all the comforts larger ships provide: swimming pools, sun decks, bars, quality dining, massage and beauty treatments, entertainment and good company.
We encourage a hands-on approach, but always leave you in charge of your own activity level. If there is a headland to climb or a reef to snorkel, you are invited. If you want to take it easy by the onboard pool, just ask for a towel and maybe grab a thriller from the library.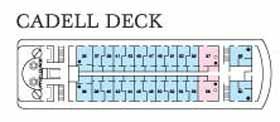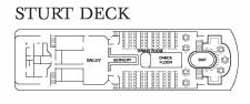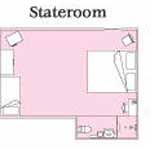 Located on Randell & Cadell Decks, all open onto the outside deck with complimentary champagne, flowers, fridge and tea & coffee making facilities. There are two (2) double bed staterooms, and four (4) family staterooms with a double bed and a single bed.

All cabins and staterooms are situated on the outside, with private bathroom ensuite, on/off air conditioning, electric blankets, soap, shampoo and towels, serviced daily. Each cabin is approximately 120sq.ft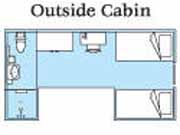 Located on Randell and Cadell Decks, all open onto the outside deck with generous picture windows. Two (2) have a double bed and three (3) have a double bed and a single bed.

All cabins and staterooms are situated on the outside, with private bathroom ensuite, on/off air conditioning, electric blankets, soap, shampoo and towels, serviced daily. Each cabin is approximately 120sq.ft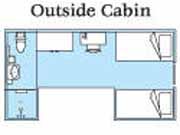 Located on Randell and Cadell Decks, all open onto the outside deck with generous picture windows. Forty (40) have two beds. (3) have a double bed and a single bed.

All cabins and staterooms are situated on the outside, with private bathroom ensuite, on/off air conditioning, electric blankets, soap, shampoo and towels, serviced daily. Each cabin is approximately 120sq.ft
Located on Chaffey Deck, all open onto an inside passageway with portholes. (2) have a double bed.

All cabins and staterooms are situated on the outside, with private bathroom ensuite, on/off air conditioning, electric blankets, soap, shampoo and towels, serviced daily. Each cabin is approximately 120sq.ft
Located on Chaffey Deck, all open onto an inside passageway with portholes. Seven (7) have twin beds.

All cabins and staterooms are situated on the outside, with private bathroom ensuite, on/off air conditioning, electric blankets, soap, shampoo and towels, serviced daily. Each cabin is approximately 120sq.ft