Cruise Itinerary
| Date | Port | Arrive | Depart |
| --- | --- | --- | --- |
| 26 Nov 2021 | Murray Bridge, Victoria, Australia | | |
| 27 Nov 2021 | Mannum, South Australia | | |
| 28 Nov 2021 | Mannum, South Australia | | |
| 28 Nov 2021 | Murray Bridge, Victoria, Australia | | |
2 Night Cruise sailing from Murray Bridge roundtrip aboard Proud Mary.

Relax on board our purpose-built riverboat as you discover the beauty and fascination of the fourth longest river system in the world.

FRIDAY
7pm You are welcomed aboard by the friendly Proud Mary crew. Having settled into your comfortable, river-view cabin, you may like to join fellow passengers in the Dining Room & enjoy a drink before a delicious hot supper is served. Proud Mary cruises to its overnight mooring point and your Captain introduces the crew. Cruising the river at night is a magical experience and the Proud Mary's powerful floodlights illuminate the graceful willows and dark waters as you glide past. This is an excellent opportunity to see the River environment from a completely different perspective and may allow you to view some of the nocturnal wildlife, especially birds such as night herons, owls, and coots.

10pm Proud Mary ties up at Sunnyside, our overnight mooring, for a night of peace and tranquillity in the Australian bush.

11.30pm Dining Room is closed.

SATURDAY
7am The Dining Room is opened. Tea and coffee available.

8am Proud Mary departs Sunnyside and continues upstream through some of the most spectacular scenery on the entire Murray River system. In the early days of riverboats, the inland lagoons were so immense that captains could often not find clear channels to navigate, so in the early 1900s riverboat captains planted willow trees along the banks to clearly mark the main river. Today the willows provide the perfect haven for a prolific range of birdlife. There are some 320 species in this area and, with the aid of binoculars and your well-informed guide, you will be able to study these beautiful creatures at close range.

8.15am - 9am A hearty buffet breakfast is available, featuring quality South Australian produce, which you can enjoy while cruising through Mypolonga, Woodlane, Caloote and Ponde.

10.30am The Proud Mary berths in Mannum allowing time for a stroll through this historic town. Visit the Mannum Dock Museum for a fascinating glimpse of aboriginal settlement and the early days of paddle-steamers. Details on three historic walks, explaining significant places and heritage buildings, can be obtained at the Visitor Information Centre.

12.30pm The vessel departs Mannum. Enjoy a delicious lunch prepared by the Proud Mary chefs as you cruise upstream through Younghusband and Teal Flat. Your menu may include dishes such as Lamb Rack with Tomato Chutney or NT Barrumundi with Lemon Myrtle, Spinach and Yam Chips.

3pm Proud Mary ties up at Teal Flat, located alongside towering cliffs and beautiful sandy beaches. Here, you will enjoy an informative guided cruise aboard a small boat as our expert ecologist leads you through the lagoons and inlets of the Murray River. This amazing experience allows you to immerse yourself in the beauty and tranquility of the river environment while your guide provides fascinating information about the River and its ecology. It's a truly memorable experience.

5pm The Bar opens onshore. Enjoy a relaxing drink as you bask in the beauty of your surroundings and chat to fellow passengers. There's also time to take a walk around the nearby riverbank area to immerse yourself in peace of your surroundings.

6.30pm This evening delivers another memorable experience… a traditional Aussie barbeque prepared by our chefs and eaten under a canopy of stars amidst the restful sounds of the nearby river. Afterwards enjoy an evening of live entertainment around a blazing campfire, provided by our resident musician. Request a song and sing along into the night as the stars of the Australian sky hover above, almost close enough to touch.

11.30pm Dining Room closes.

SUNDAY
7am The Dining Room opens. Tea and coffee available. This morning there will be time for further exploration of the tranquil Australian bush.

7.45am Proud Mary departs Teal Flat & cruises downstream towards Mannum.

8.15am - 9am Another hearty English breakfast is served for your enjoyment.

10.15am Arrive back at picturesque Mannum to board the waiting coach for your tour to Reedy Creek Environmental Park. This was an important gathering point for local Aboriginal tribes as it provided an abundant source of water throughout the entire year. Your ecologist guide will explain this special landscape and its effect on the surrounding countryside and the aboriginal inhabitants. Comfortable walking shoes are recommended and don't forget to take along your cameras, as Reedy Creek is very picturesque indeed, especially when the waterfalls are flowing.

12.15pm We depart from Mannum.

12.30pm A delicious smorgasbord lunch is served featuring fresh local produce. This afternoon there will be more spectacular scenery while the Proud Mary cruises past Ponde, Caloote, Woodlane, Mypolonga and Willow Banks. An interesting video on Murray River Ecology will be shown during the afternoon.

4pm Late afternoon, the Vessel secures back at Murray Bridge. We hope you have enjoyed your time with us and will return for another River Murray experience in the future.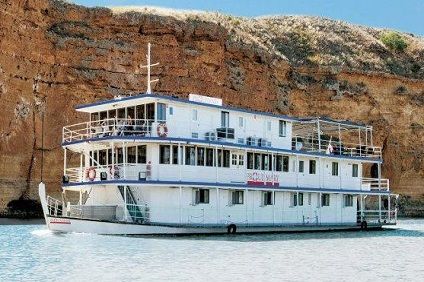 The Proud Mary has recently undergone refurbishment to ensure your stay with us is as comfortable as possible.

All the cabins have river views and are equipped with individually controlled air-conditioning for year round comfort.

Cabins are non-smoking and open onto balcony areas. Smoking is permitted in specified deck areas.

Each cabin has a private en-suite, hair dryer, tea and coffee making facilities and is serviced twice daily.

The Proud Mary ensures your safety while cruising by providing lifejackets in all the cabins and placing life buoys on all decks around the vessel.

You can order a drink and venture out onto the Proud Mary's spacious open decks or enjoy the intimate lounge and dining areas. The Captain's commentary may spark an interest to peruse the vessel's resource centre and learn more from one of the many books available on board.

Tea & coffee making facilities are also available in the dining area so our passengers can enjoy a cuppa while browsing through the souvenirs available for purchase.

Bikes and canoes are available free of charge to enable our passengers to explore at their leisure any spectacular mooring locations or to discover the backwaters. For those who like a spot of fishing, reels and baits are also available.

The Wheelhouse is open to all passengers to visit at any time. You can see first-hand how the boat is run, ask questions of the Captain and even take the wheel yourself if you'd like to.
Ship Profile & Stats
Maiden voyage: 1982
Ship registration: Australian
Passenger capacity (dbl): 40
Crew nationality: Australian
Officer nationality: Australian
Dining nationality: Australian
Ship Amenities
Individually Controlled Air Conditioning
Private Ensuite
Tea & Coffee Facilities
Hair Dryer
Ship Facilities
Lounge
Dining Area
Bar
Resource Centre
Souveneir Shop
Australia's River Murray is one of the world's legendary rivers, in fact, the fourth longest river system in the world. Mysterious, massive and meandering 3,700 kilometres, it ranks with the Mississippi, the Nile and the Amazon.
The MV Proud Mary has operated for over 30 years offering lunch cruises as well as 2,3 and 5 night cruise packages based at Murray Bridge, only 45 minutes from Adelaide.
The 18 deluxe cabins, gourmet meals and the vessel's intimate size provide a luxury, boutique cruise option with a strong emphasis on the daily nature-based shore excursions.
The cruises feature ecological walks, aquaculture discoveries from small boat tours into lagoons and inlets, historic township exploration and a visit to the oldest archaeological digs in Australia, the Aboriginal Ngaut Ngaut conservation site.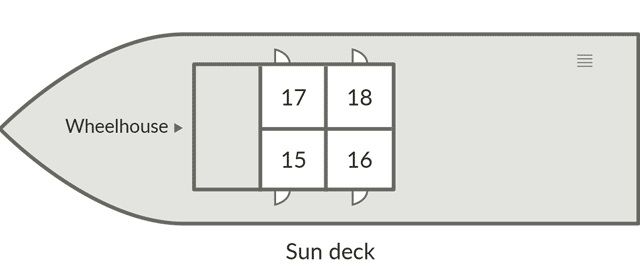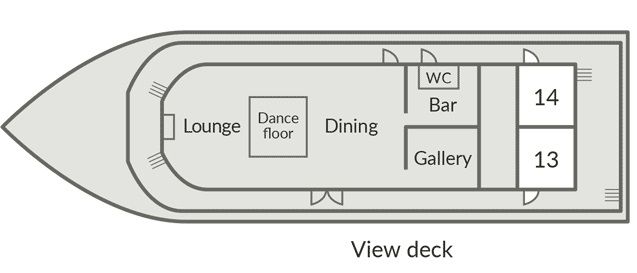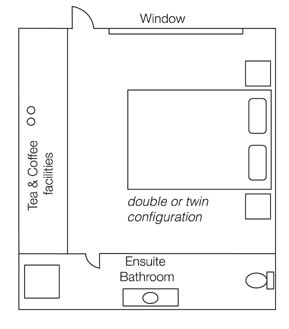 The Proud Mary boasts 18 spacious ensuite riverview cabins. With only one room type, each cabin has:

•Twin or double beds
•Individually controlled air conditioning units
•Private ensuite
•Tea/coffee making facilities
•Hair dryers

All the cabins are serviced twice daily free of charge & open onto balcony areas offering you spectacular sceneries.